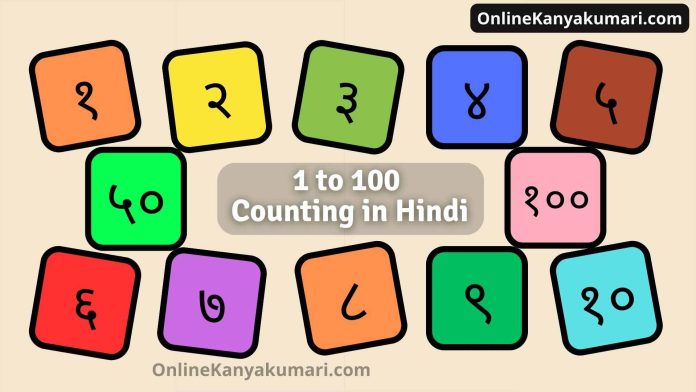 1 to 100 Counting in Hindi
We have given here 1 to 100 Counting in Hindi so that you can easily understand and know to speak the numbers in Hindi. We have given you Numbers in English, Numbers in Hindi, How to pronounce it in English, How to pronounce it in Hindi and how to read it in Hindi.
Learning Hindi
Learning Hindi can be a fascinating and rewarding journey. As one delves into the language, they embark on a path to explore the rich cultural heritage of India and connect with millions of Hindi speakers worldwide. With its melodious sounds and intricate script, Hindi presents a unique linguistic landscape. From mastering the Devanagari alphabet to grasping the nuances of grammar and vocabulary, every step in learning Hindi unveils a new facet of this beautiful language. Whether it's conversing with native speakers, reading Hindi literature, or watching Bollywood movies, the opportunities to practice and immerse oneself in Hindi are plentiful. Beyond communication, learning Hindi opens doors to understanding the traditions, customs, and vibrant history of India. It allows individuals to bridge gaps, forge meaningful connections, and develop a deeper appreciation for the diverse cultures that thrive in the Hindi-speaking world. Through perseverance and dedication, learners can unlock a world of possibilities and embark on an enriching linguistic and cultural adventure by learning Hindi.
So let's start with 1 to 100 Counting in Hindi.
Counting in Hindi from Numbers 1 to 10 [हिंदी में 1 से 10 तक गिनती]
| | | | | |
| --- | --- | --- | --- | --- |
| Number in English | Number in Hindi | Pronunciation in Hindi | Pronunciation in English | Reading in Hindi |
| 0 | ० | शून्य | Zero | |
| 1 | १ | एक | One | Ek |
| 2 | २ | दो | Two | Dho |
| 3 | ३ | तीन | Three | Theen |
| 4 | ४ | चार | Four | Char |
| 5 | ५ | पाँच | Five | Paanch |
| 6 | ६ | छः | Six | Chhah |
| 7 | ७ | सात | Seven | Saath |
| 8 | ८ | आठ | Eight | Aath |
| 9 | ९ | नौ | Nine | Nau |
| 10 | १० | दस | Ten | Das |
Counting in Hindi from Numbers 11 to 20 [हिंदी में 11 से 20 तक गिनती]
| | | | | |
| --- | --- | --- | --- | --- |
| Number in English | Number in Hindi | Pronunciation in Hindi | Pronunciation in English | Reading in Hindi |
| 11 | ११ | ग्यारह | Eleven | Gyaarah |
| 12 | १२ | बारह | Twelve | Baarah |
| 13 | १३ | तेरह | Thirteen | Terah |
| 14 | १४ | चौदह | Fourteen | Chaudah |
| 15 | १५ | पन्द्रह | Fifteen | Pandrah |
| 16 | १६ | सोलह | Sixteen | Solah |
| 17 | १७ | सत्रह | Seventeen | Satarah |
| 18 | १८ | अठारह | Eighteen | Atharah |
| 19 | १९ | उन्नीस | Nineteen | Unnees |
| 20 | २० | बीस | Twenty | Bees |
Counting in Hindi from Numbers 21 to 30 [हिंदी में 21 से 30 तक गिनती]
| | | | | |
| --- | --- | --- | --- | --- |
| Number in English | Number in Hindi | Pronunciation in Hindi | Pronunciation in English | Reading in Hindi |
| 21 | २१ | इक्कीस | Twenty one | Ikkis |
| 22 | २२ | बाईस | Twenty two | Baais |
| 23 | २३ | तेईस | Twenty three | Teis |
| 24 | २४ | चौबीस | Twenty four | Chaubis |
| 25 | २५ | पच्चीस | Twenty five | Pachchis |
| 26 | २६ | छब्बीस | Twenty six | Chhabbis |
| 27 | २७ | सत्ताईस | Twenty seven | Sattais |
| 28 | २८ | अट्ठाईस | Twenty eight | Atthais |
| 29 | २९ | उन्तीस | Twenty nine | Unteess |
| 30 | ३० | तीस | Thirty | Tees |
Counting in Hindi from Numbers 31 to 40 [हिंदी में 31 से 40 तक गिनती]
| | | | | |
| --- | --- | --- | --- | --- |
| Number in English | Number in Hindi | Pronunciation in Hindi | Pronunciation in English | Reading in Hindi |
| 31 | ३१ | इकतीस | Thirty one | Ikatees |
| 32 | ३२ | बत्तीस | Thirty two | Battis |
| 33 | ३३ | तैंतीस | Thirty three | Taintees |
| 34 | ३४ | चौंतीस | Thirty four | Chautis |
| 35 | ३५ | पैंतीस | Thirty five | Painitis |
| 36 | ३६ | छत्तीस | Thirty six | Chhattis |
| 37 | ३७ | सैंतीस | Thirty seven | Saintees |
| 38 | ३८ | अढ़तीस | Thirty eight | Adhatis |
| 39 | ३९ | उनतालीस | Thirty nine | Untalis |
| 40 | ४० | चालीस | forty | Chalis |
Counting in Hindi from Numbers 41 to 50 [हिंदी में 41 से 50 तक गिनती]
| | | | | |
| --- | --- | --- | --- | --- |
| Number in English | Number in Hindi | Pronunciation in Hindi | Pronunciation in English | Reading in Hindi |
| 41 | ४१ | इकतालीस | Forty one | Ikatlis |
| 42 | ४२ | बयालीस | Forty two | Bayalis |
| 43 | ४३ | तैंतालीस | Forty three | Taintalis |
| 44 | ४४ | चवालीस | Forty four | Chauvalis |
| 45 | ४५ | पैंतालीस | Forty five | Paintalis |
| 46 | ४६ | छियालीस | Forty six | Chiyaalis |
| 47 | ४७ | सैंतालीस | Forty seven | Saintalis |
| 48 | ४८ | अड़तालीस | Forty eight | Adhtalis |
| 49 | ४९ | उन्चास | Forty nine | Unachaas |
| 50 | ५० | पचास | Fifty | Pachaas |
Counting in Hindi from Numbers 51 to 60 [हिंदी में 51 से 60 तक गिनती]
| | | | | |
| --- | --- | --- | --- | --- |
| Number in English | Number in Hindi | Pronunciation in Hindi | Pronunciation in English | Reading in Hindi |
| 51 | ५१ | इक्यावन | Fifty one | Ikyaavan |
| 52 | ५२ | बावन | Fifty two | Baawan |
| 53 | ५३ | तिरपन | Fifty three | Tirepan |
| 54 | ५४ | चौवन | Fifty four | Chaubees |
| 55 | ५५ | पचपन | Fifty five | Pachpan |
| 56 | ५६ | छप्पन | Fifty six | Chhappan |
| 57 | ५७ | सत्तावन | Fifty seven | Sattaawan |
| 58 | ५८ | अट्ठावन | Fifty eight | Atthaawan |
| 59 | ५९ | उनसठ | Fifty nine | Unasath |
| 60 | ६० | साठ | Sixty | Saath |
Counting in Hindi from Numbers 61 to 70 [हिंदी में 61 से 70 तक गिनती]
| | | | | |
| --- | --- | --- | --- | --- |
| Number in English | Number in Hindi | Pronunciation in Hindi | Pronunciation in English | Reading in Hindi |
| 61 | ६१ | इकसठ | Sixty one | Ikasath |
| 62 | ६२ | बासठ | Sixty two | Baasath |
| 63 | ६३ | तिरसठ | Sixty three | Tirasaath |
| 64 | ६४ | चौंसठ | Sixty four | Chausath |
| 65 | ६५ | पैंसठ | Sixty five | Painsath |
| 66 | ६६ | छियासठ | Sixty six | Chhiyasath |
| 67 | ६७ | सड़सठ | Sixty seven | Sarsath |
| 68 | ६८ | अड़सठ | Sixty eight | Adhasath |
| 69 | ६९ | उनहत्तर | Sixty nine | Unhattar |
| 70 | ७० | सत्तर | Seventy | Sattar |
Counting in Hindi from Numbers 1 to 10 [हिंदी में 1 से 10 तक गिनती]
| | | | | |
| --- | --- | --- | --- | --- |
| Number in English | Number in Hindi | Pronunciation in Hindi | Pronunciation in English | |
| 0 | ० | शून्य | Zero | |
| 1 | १ | एक | One | |
| 2 | २ | दो | Two | |
| 3 | ३ | तीन | Three | |
| 4 | ४ | चार | Four | |
| 5 | ५ | पाँच | Five | |
| 6 | ६ | छः | Six | |
| 7 | ७ | सात | Seven | |
| 8 | ८ | आठ | Eight | |
| 9 | ९ | नौ | Nine | |
| 10 | १० | दस | Ten | |
Counting in Hindi from Numbers 1 to 10 [हिंदी में 1 से 10 तक गिनती]
| | | | | |
| --- | --- | --- | --- | --- |
| Number in English | Number in Hindi | Pronunciation in Hindi | Pronunciation in English | |
| 0 | ० | शून्य | Zero | |
| 1 | १ | एक | One | |
| 2 | २ | दो | Two | |
| 3 | ३ | तीन | Three | |
| 4 | ४ | चार | Four | |
| 5 | ५ | पाँच | Five | |
| 6 | ६ | छः | Six | |
| 7 | ७ | सात | Seven | |
| 8 | ८ | आठ | Eight | |
| 9 | ९ | नौ | Nine | |
| 10 | १० | दस | Ten | |
Counting in Hindi from Numbers 1 to 10 [हिंदी में 1 से 10 तक गिनती]
| | | | | |
| --- | --- | --- | --- | --- |
| Number in English | Number in Hindi | Pronunciation in Hindi | Pronunciation in English | |
| 0 | ० | शून्य | Zero | |
| 1 | १ | एक | One | |
| 2 | २ | दो | Two | |
| 3 | ३ | तीन | Three | |
| 4 | ४ | चार | Four | |
| 5 | ५ | पाँच | Five | |
| 6 | ६ | छः | Six | |
| 7 | ७ | सात | Seven | |
| 8 | ८ | आठ | Eight | |
| 9 | ९ | नौ | Nine | |
| 10 | १० | दस | Ten | |
Counting in Hindi Big Numbers  [हिंदी में बड़ी संख्याएँ]
| | | | | |
| --- | --- | --- | --- | --- |
| Number in English | Number in Hindi | Pronunciation in Hindi | Pronunciation in English | |
| 1000 | १००० | एक हजार | One Thousand | |
| 10000 | १०००० | दस हजार | Ten Thousand | |
| 1000000 | १००००० | एक लाख | One Lac | |
| 1000000 | १०००००० | दस लाख | One Million | |
| 10000000 | १००००००० | एक करोड़ | One Crore | |
| 100000000 | १०००००००० | दस करोड़ | Ten Crore | |
| 1000000000 | १००००००००० | एक अरब | One Billion | |