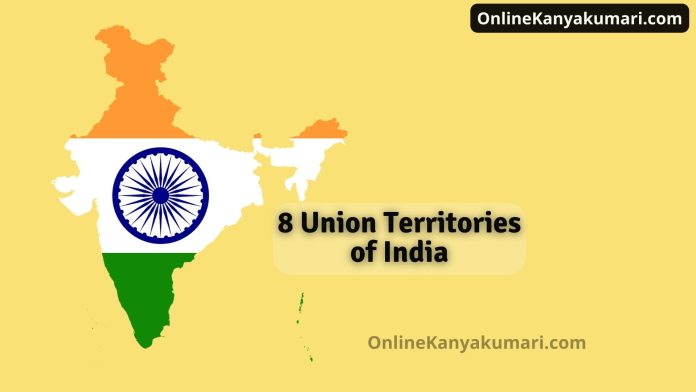 There are 8 Union Territories of India. Lets know more about the Union Territories in India.
What is Union Territory?
A Union Territory is a type of administrative division in India. It is a region that is directly governed by the federal government of India, as opposed to being part of a state with its own elected government. Union Territories are created and regulated by the Constitution of India.
The Indian Constitution grants certain powers to the federal government over Union Territories, allowing it to exercise direct control and authority. The President of India appoints an Administrator or Lieutenant Governor to represent the President and administer the Union Territory on their behalf. The Administrator or Lieutenant Governor is responsible for the governance and administration of the Union Territory.
Union Territories in India have varying degrees of autonomy and legislative powers. Some Union Territories have their own legislative assemblies and councils, while others are directly administered by the federal government. The Union Territories without legislatures are governed by centrally appointed administrators.
Which are the 8 Union Territories in India?
As of September 2021, there are eight Union Territories in India. Here is the List of 8 Union Territories of India (2023).
Andaman and Nicobar Islands
Chandigarh
Dadra and Nagar Haveli and Daman and Diu (merged UT)
Lakshadweep
Puducherry
Delhi (National Capital Territory of Delhi)
Ladakh
Jammu and Kashmir
Please note that the status of Union Territories can change over time as per the decisions and policies of the Indian government. It's always good to verify the latest information from reliable sources.
Lets know more about the eight Union Territories in India
Andaman and Nicobar Islands: Located in the Bay of Bengal, the Andaman and Nicobar Islands are a group of islands consisting of 572 islands, of which 38 are inhabited. Port Blair is the capital city and the administrative headquarters. The islands are known for their stunning beaches, tropical rainforests, and rich biodiversity. They also have historical significance as a former British penal colony. [ Established in 1 November 1956 ]
Chandigarh: Chandigarh is a Union Territory and serves as the capital city of two states, Punjab and Haryana. It is known for its well-planned urban design, with wide roads, landscaped gardens, and modern architecture. Chandigarh is a major center for government offices, educational institutions, and industries. The city was designed by the renowned architect Le Corbusier.[ Established in 1 November 1966 ]
Dadra and Nagar Haveli and Daman and Diu (merged UT): These two former Union Territories were merged into a single Union Territory in January 2020. Dadra and Nagar Haveli is located near Gujarat, while Daman and Diu are coastal areas located on the Arabian Sea. The Union Territory is known for its beautiful beaches, historical sites, and a blend of Portuguese and Indian cultures. [ Established in 26 January 2020 ]
Lakshadweep: Lakshadweep is a group of 36 islands located in the Arabian Sea, off the southwestern coast of India. Out of the 36 islands, only 10 are inhabited. The capital city is Kavaratti. Lakshadweep is known for its pristine beaches, coral reefs, and marine biodiversity. It is a popular tourist destination and also famous for its traditional culture and festivals. [ Established in 1 November 1956 ]
Puducherry: Puducherry, also known as Pondicherry, is a former French colony and a Union Territory on the southeastern coast of India. It comprises four separate enclaves: Puducherry, Karaikal, Mahe, and Yanam. Puducherry, the capital city, has retained much of its French influence, with colonial architecture, French street names, and a relaxed atmosphere. It is a popular tourist destination known for its scenic beaches and spiritual retreats. [ Established in 16 August 1962 ]
Delhi (National Capital Territory of Delhi): Delhi is the capital territory of India and is a Union Territory with a unique status. It serves as the political, administrative, and cultural center of the country. Delhi is divided into various districts, and New Delhi is the central administrative area. The city is known for its historical landmarks, government institutions, bustling markets, and a rich blend of cultures.[ Established in 1 November 1956 ]
Ladakh: Ladakh is a Union Territory located in the northernmost region of India, sharing borders with China and Pakistan. It is known for its breathtaking landscapes, high-altitude deserts, and majestic mountain ranges, including the Himalayas and the Karakoram Range. Leh is the largest city and serves as the administrative center. Ladakh has a predominantly Buddhist culture and is renowned for its monasteries and adventure tourism.[ Established in 31 October 2019 ]
Jammu and Kashmir: Jammu and Kashmir is a Union Territory in the northern part of India. It was previously a state but was reorganized into two separate Union Territories in October 2019. Jammu is the winter capital, and Srinagar is the summer capital. Jammu and Kashmir is known for its scenic beauty, including the picturesque Kashmir Valley, the stunning Himalayan landscapes, and historical sites such as the Dal Lake and Mughal Gardens.[ Established in 31 October 2019 ]