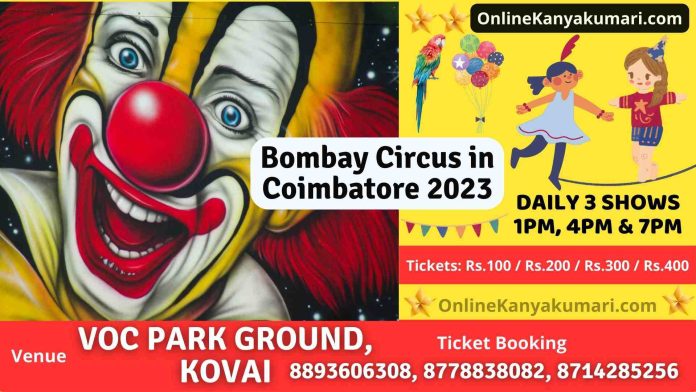 After six long years, 'The Great Bombay Circus' has started in Coimbatore. Circus in Coimbatore 2023 has started on 23rd June 2023, and it is planned to be held for a month at VOC Ground, Coimbatore.
More than 30 adventure programs will be held. This time more than 15 new adventures have been newly added to the circus show. Artists from Ethiopia are participating in the program. An eight-member troupe from Manipur and famous performers from India and Nepal perform circus acts and perform various adventures to surprise the audience.
In this circus show, adventures like Club Juglink, Roller Act, Gymnastic Condagion, Foot Juglink, Tower Basketball, Acrobatic Hula Hoop, Icarian Duo Act, Kandarson, Antipode Act, Rhythmic Huhullah Hoop, Bowling Knife Variety, Sphere Balance, Balance in Trapeze at 60 feet height, acrobatic skating and many other adventures can be watched.
Alongside the human performers, the Great Bombay Circus showcases trained animals such as  horses, dogs, etc adding an element of excitement and wonder to the shows.
The circus tent is air-cooled, water-proof and also fire-proof.
About The Great Bombay Circus
The Great Bombay Circus Company is the world's most famous and oldest company with a history of over 102 years.
Founded in Mumbai, India, the circus has been entertaining audiences for several decades with its unique blend of acrobatics, daredevil stunts, clown acts, animal performances, and mesmerizing displays of skill and agility.
Circus In Coimbatore 2023 Details
Venue: VOC Ground, Coimbatore.
Date: From 23.06.2023 for a period of 1 month
Time: Afternoon 1.00 PM / Evening 4.00 PM / Night 7.00 PM
Ticket Booking & Reservation
Ticket Prices: Rs.100 / Rs.200 / Rs.300 / Rs.400
Children above 3years age are required to buy tickets.
Reservation is available for tickets priced Rs.400/-.
For Reservation, please call: 8893606308, 8778838082, 8714285256
Other tickets are available at the ticket counter in venue (VOC Ground).
Ticket Offer
40% discount for school students coming in groups.
Bombay Circus in Coimbatore 2023 Google Map Location