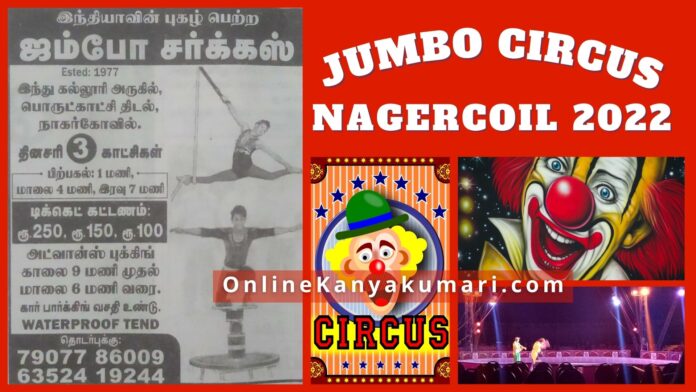 India's famous Jumbo Circus has commenced in Nagercoil on 17th June 2022 and will be entertaining the people of Nagercoil for 30 days. The circus tent has been pitched at the Exhibition Ground, near Hindu College.
The circus show was inaugurated by the Honorable Mayer of Nagercoil Mr. Mahesh. Commissioner Anand Mohan, Divisional Head Augustina Kokila Vani, Jawahar, Muthu Raman, Selvakumar, Councilors Ramesh Piyasha Hajibabu were also present on the occasion.
There are a variety of acrobatics and gymnastics that are to be performed by the artists to show their talents. There will be shows like, 4 people riding bikes around the globe, Kulla Group Dance, Bar Games, shows of Horse, Dog, Camel and Birds. Absolutely the clown will also be a Great entertainment for the Children. Also the dwarf men comedy will be a delight for the kids.
About Jumbo Circus
Jumbo Circus is started in 1977 by M. V. Shankaran. During that period, Jumbo Jet plane was newly introduced. M. V. Shankaran was inspired by the name and hence he put the name as Jumbo Circus. It is one of the Largest and most popular Circus shows in India. Artists from many countries perform shows in this circus. In December 1994, the show at Calcutta made a sensation in the media. It was really a comeback for the Circus industry.
On October 2nd 1977, the first show was inaugurated at Dhanapur in Bihar by Brigadier Pathania.
Daily there will be three shows at 1 pm, 4 pm and 7 pm.
Circus In Nagercoil 2022 Details:
Venue: Exhibition Ground, Near Hindu College, Nagercoil.
Date: From 17.06.2022 to 01.08.2022.
Time: Afternoon 1.00 PM / Evening 4.00 PM / Night 7.00 PM
Tickets: Rs.250 / Rs.150 / Rs.100
Advance Booking / Reservation Available from Morning 9AM to 6PM. Contact: 7907786009 / 6352419244
Contact: 7907786009 / 6352419244
Facebook: https://www.facebook.com/jumbocircusofficial/