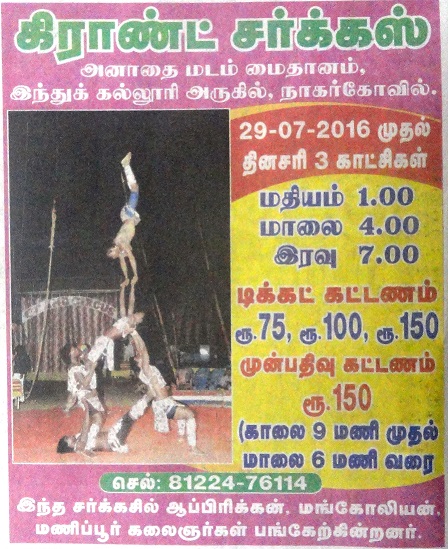 Circus In Nagercoil | Grand Circus In Nagercoil | 29.07.2016
Now Kanyakumari district people can enjoy circus in Nagercoil from 29th July, 2016. The circus is organised by Grand Circus. Entertainers from Africa, Mongolia and Manipur participate in this Circus to show their talents. There are a variety of acrobatics and gymnastics that are to be performed by the artists. Absolutely the clown will also be a Great entertainment for the Children.
Venue: Anadhai Madam Maithanam, Near Hindu College, Nagercoil.
Date: 29.07.2016
Time: Afternoon 1.00 PM / Evening 4.00 PM / Night 7.00 PM
Tickets: Rs.75 / Rs.100 / Rs.150
Reservation Available for Tickets of Rs.150/-. Contact 8122476114 ( 9 AM to 6 PM )
Contact: 8122476114