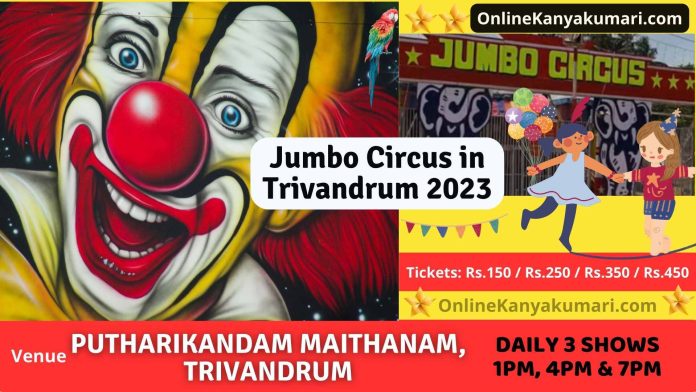 India's famous Jumbo Circus has commenced in Trivandrum on 4th August 2023 and will be entertaining the people of Trivandrum district for 30 days. The circus tent has been pitched at the Putharikandam Maithanam, Trivandrum.
About Jumbo Circus
Jumbo Circus is started in 1977 by M. V. Shankaran. During that period, Jumbo Jet plane was newly introduced. M. V. Shankaran was inspired by the name and hence he put the name as Jumbo Circus. It is one of the Largest and most popular Circus shows in India. Artists from many countries perform shows in this circus. In December 1994, the show at Calcutta made a sensation in the media. It was really a comeback for the Circus industry.
On October 2nd 1977, the first show was inaugurated at Dhanapur in Bihar by Brigadier Pathania.
Daily there will be three shows at 1 pm, 4 pm and 7 pm.
Some of the Programs at Jumbo Circus
Below given are some of the attractions at Jumbo circus.
Flying Trapeze
Parade
Russian Stick Balance
Clown Chair
Russian Rope Balance
Statue Acrobat
Ring of Death
Russian Weight Lifting
African Fire Dance
Pyramid
Circus In Trivandrum 2023 Details
Venue: Putharikandam Maithanam, Trivandrum.
Date: From 04.08.2023 for a period of 1 month
Time: Afternoon 1.00 PM / Evening 4.00 PM / Night 7.00 PM
Ticket Booking & Reservation
Ticket Prices: Rs.150/ Rs.250 / Rs.350 / Rs.450
Children above 3years age are required to buy tickets.
Online Reservation Link : https://www.bookmyseats.in/
Jumbo Circus in Trivandrum 2023 Google Map Location