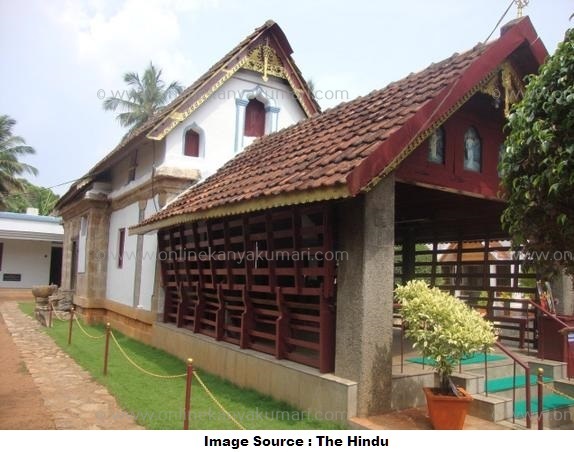 The First Church in Tamil Nadu is believed to be Ara Palli in Thiruvithancode!
Location Details
Place: St. Mary's Church, Thiruvithancodu.
Location: 2km southeast of Thuckalay. Thuckalay is 15km from Nagercoil, 35km from Kanyakumari and is located on the Kanyakumari – Trivandrum National Highway.
First Church in Tamil Nadu
It is believed that the first church in Tamil nadu is situated in Thiruvithangodu, near Thuckalay. Also it  is the existing oldest church structure in the World.
In 53 A.D. , the disciple of Jesus Christ, St.Thomas came to India who builted seven and a half Churches. He built Churches in Kodungalur, Kollam, Niranam, Chayal, Kokkamangalam, Kottaikavu, Palayur which are all situated in Kerala. In 63A.D., he built a Church for St.Mary at Manikramam in Thiruvithancodu. This church is 45ft in length, 15ft broad and 10ft in height. This church is constructed fully with granite stone.
Ara Palli or Half Church
Only this church built by him is called as Half Church (Ara Palli), since the height of the church is less. But many people have many views about this Ara palli.
According to one part of people says Ara Palli is misunderstood as Half Church (Ara = half). Because "Ara" is related to the word "King" in local language. As in words such as Arasan = King, Aramana = King's house(Palace), Arayal = King Tree (banyan tree), Arayannam = King bird. Hence Ara Palli / Arayan Palli = King's Church. As long back, Thiruvithancodu was the Capital of Travancore. The land where the church is situated is donated by the King. Hence the name as "Ara Palli.
History of the Church
This church has many names like St. Mary's Orthodox Church, Thomayar Koil, Amalagiri and Ara Palli. This church is under the control of Indian (Malankara) Orthodox Church. In 16th December 2007, The Catholicose of the East Baselios Marthoma Dydimos I proclaimed this church as St.Thomas International Pilgrim Centre.
It is said that during the 1940's, this church was tried to be converted as a Hindu temple due the the resemblance of a Hindu temple. Some believe that it was Hindu shrine which was converted into a Church. But there was a cross curved on a pillar which stopped the issue. According to believers, this cross was carved by St.Thomas himself.
The Church's alter, baptism basin, incense burner are believed to be from Portuguese.
Adjacent to the church is the newly built St.Thomas Pilgrimage Centre, which also function under the Malankara Orthodox Syrian Church.
According to a historian, the original church was built under the patronage of King. The present church has been built in the site of the original church. The church has been rebuilt atleast  five times but keeping the style of the original church. Around 80 years back, the ruins of this church was found by the late Rev. Fr. Koottumkal Geevarghese Ramban, who restored the church to its present glory.
There is a well near the church and according to legend, the well was dug at the time of St. Thomas and also it has never dried up.
Another History
In the meant time, the verbal stories say as below. In Mylapor, Christians were persecuted by chola Kingdom. Hence 64 families mainly from Brahmin Vellala Chetty community who had accepted Christianity, with the help of St.Thomas, fled to Venad. St. Thomas brought them to Travancore crossing the Western Ghats (Sahaya Parvatham) through Aralvoimozhy Pass. The King of Venad, Imayavaramban Chera Ladan received them and offered for them food and land. But when they were offered Vibhuthi, they refused it. The King also gave 64 houses for them builted on 64 fragments of land. He also gave another 24 cents of land for worship. It is said that St. Thomas only kept a cross on that place and church was built later. It has been noted in in ancient tamil poems by Thachilayar who mentions that King Imayavaramban Cheran made "Kadavul Mana" meaning House of the Lord. Also he is mentioned as Santor Puravila meaning Protector of Saints. Santor is derived from the latin word, sanctus which means holy. And hence it can be assumed that Santor mentioned is about Christians.
In later years, the Christians from Thiruvithancodu migrated do different parts of Travancore for business and also to escape from fatal diseases. In 1825, there was a great epidemic of Cholera in Kerala which took the lives of many. Also many people had to leave from one place to another place. Many people from Thiruvithancode migrated to Kollam, Kundara, Kadambanad, Adoor, Chathannur etc which were Christian areas.
First Church in Tamil Nadu
Ref:
Wikipedia