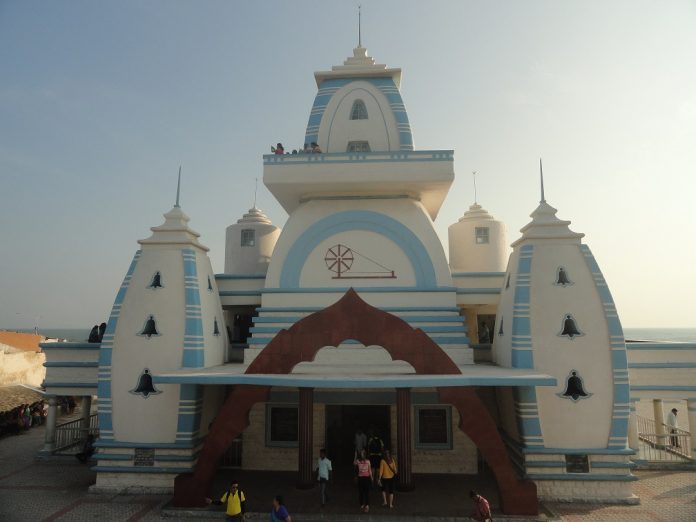 A memorial to honour Mahatma Gandhi was constructed near the sea shore in Kanyakumari.
Mahatma Gandhi Visit to Kanyakumari
The father of the Nation Mahatma Gandhi visited Kanyakumari two times in 1925 and 1937.
Gandhi's Assassination and Immersion of Ashes
Mahatma Gandhi was tragically assassinated in 1948. His body was cremated. Later his ashes were brought to Kanyakumari for immersion in the Triveni Sea on February 12, 1948. Before the immersion, the urn of ashes were kept for public to pay homage, on the same spot where this memorial stands now.
Gandhi Memorial Construction
The Gandhi memorial is built in unique Orissa style of architecture. The central shape of the Gandhi memorial is 79 feet high, representing the age of Mahatma Gandhi. The most remarkable feature is that the memorial is built in such a way that on 2nd October, the birthday of Mahatma Gandhi, the sun's rays falls through the hole at the top of the building, on the exact spot (a small stone pillar) where his ashes were kept before immersion.
The Gandhi Memorial was completed in 1956.
Inside the memorial you can see many photographs of Mahatma Gandhi taken at various times and also Mahatma Gandhi with other famous Personalities.
Important Tourist Spot
The Gandhi memorial is a popular tourist spot in Kanyakumari and is situated nearby to Kumari Amman Temple. Everyone should surely visit the Gandhi Memorial to complete the tour of Kanyakumari.
Visitors can visit on all days from morning seven to evening seven. No entry fee is charged, except Re.1 is collected for each pair of footwear, as footwear are not allowed inside the Gandhi Memorial and also in the premises.
Opening Hours: 7 AM to 7 PM
Holiday: No holiday
Entry Fee: Nil (Re.1 for each pair of footwear)
Photo Gallery of Gandhi Memorial, Kanyakumari, Tamil Nadu
External Links
http://www.atlasobscura.com/places/kanyakumari-gandhi-mandapam