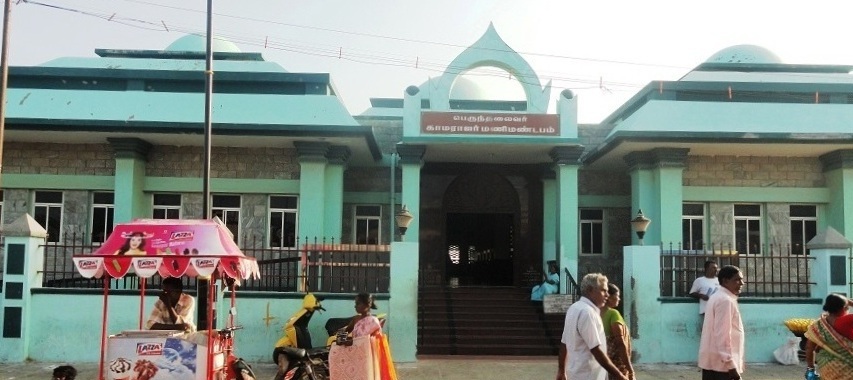 A Memorial or Manimandapam is a building structure built to tribute a person. In that way, a Memorial was built for Shri. Kamaraj, the freedom fighter, a veteran political leader and the past Chief Minister of Tamil Nadu who in 1962, introduced the 'free meal scheme' in schools to encourage the poorest of the poor people to send their children to school.
Kamaraj the "Black Gandhi"
Kumarasami Kamaraj, known as K. Kamaraj was born on 15th July, 1903. He was popularly known as "Black Gandhi" "Perunthalaivar Kamaraj" etc. He involved in the Indian Independence Movement, was the President of the Indian National Congress from 1964 to 1967, and was the Chief Minister of Tamil Nadu for Three times from 1954 to 1963.
He was the First Chief Minister of any state in India to introduce free midday Meal Scheme in Schools. Presently, this scheme has been implemented in many states like Kerala, Gujarat, Andhra Pradesh etc. He also introduced free education to school children. Due to his efforts, the education rate was increased from 7% to 37%.
During the 1960s, he was widely acclaimed as the "King Maker".
On 2nd October, 1975 Shri. Kamaraj passed away at his home at the age of 72.
In 1976, posthumously he was awarded Bharat Ratna, India's highest civilian honour.
Construction of Kamaraj Memorial
After his death, his ashes were kept at Kanyakumari sea shore for the public to pay homage before being immersed in the sea. The memorial was constructed on the same place were his ashes were kept before immersion in the sea.
On 19.04.1998, the Honourable Chief Minister of Tamil Nadu declared that a Memorial would be constructed to honour Shri.Kamaraj, for his services to the people of Tamil Nadu. The Kamaraj Memorial was built at a cost of Rs. 50 Lakhs. The Memorial was dedicated to the nation by the Honourable Chief Minister of Tamil Nadu on 2nd October, 2000.
The Kamaraj memorial displays rare collection of photographs depicting the important events and the life history of Shri. Kamaraj. The Memorial also has a library functioning.
Location and Tourist Importance
Kamaraj memorial is located just near to Gandhi Memorial. Visitors to Kanyakumari should not miss this Memorial and pay obeisance to Kamarajar.
Opening Hours: 7 AM to 7 PM
Holiday: No holiday
Entry Fee: Nil [Free Entry]
Photo Gallery