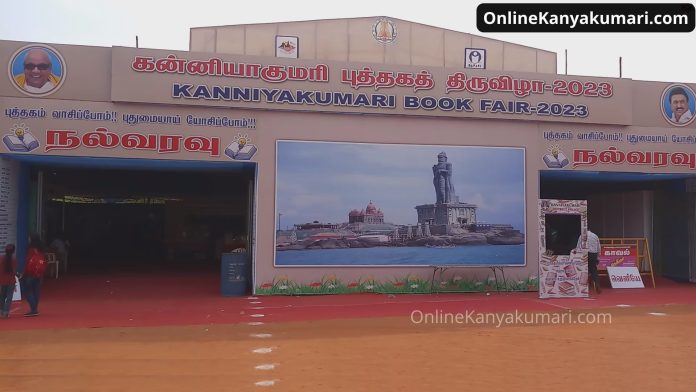 The 4th Kanyakumari Book Fair 2023, (Nagercoil Book Fair 2023) is hosted at the Government Polytechnic College in Konam, Nagercoil. The book fair is organized by the Kanyakumari District Administration along with the Booksellers and Publishers Association of South India (BAPASI).
The Kanyakumari book fair will start from 14th April 2023 and will conclude on 24th April 2023.
Already eager to know more insights about this impressive Book Fair 2023 at Nagercoil? So, without any further wait, let us know more about the highlights of this event.
For Details on Offers & Discounts, Please see the below Video
Date And Venue Of Kaniyakumari Book Fair 2023
Venue
Government Polytechnic College, Konam, Nagercoil.
Visiting Hours
11:00 a.m. to 9:00 p.m.
Duration
14th April – 24th April 2023
Book Fair 2023 Google Map Location
Major Attractions Of Kanyakumari Book Fair 2023
1. 100+ Stalls of Books & Information!
This book fair is aimed at increasing the reading habit among the younger generation. There are a total of 110 stalls in which 100 for book stalls and 10 for Government Stalls. Comics for kids, story books for children, recipe books for housewives, health books and a number of other books are available at this book exhibition.
2. Cultural Programes
Cultural Program is an exciting aspect of the book fair, to be sure. Every day, there are many programmes organized like Dance, Paraiyattam, Karagattam, Oyilattam, Kaliyal Dance, Silambattam etc. School and College students put up cultural programmes for this event to add fun, excitement, and cheer.
3. Photo Exhibition
There is a photo exhibition conducted by the Tamil Nadu Information and Public Relations Department.