Kanyakumari District Informations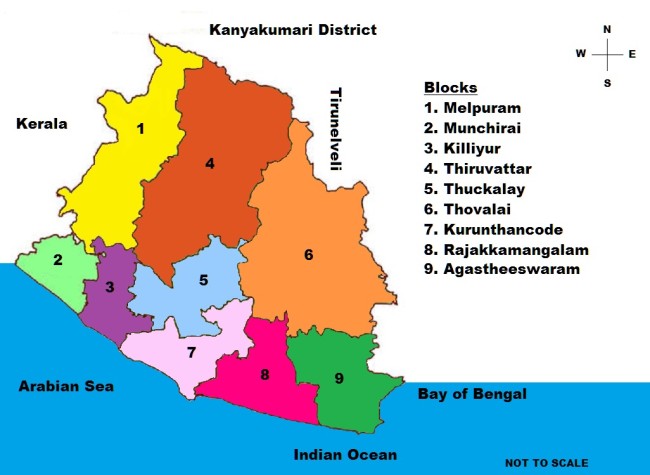 A Short Note on Kanyakumari District
Kanyakumari district, known as the southern border of the country, the foot of Bharata Matha, still retains its unchanging youth.
Among the five types of land, Kurunji, Mullai, Marutham and Neythal are the four types of land that are found here which is the highlight of this Kanyakumari district.
One of the smallest districts of Tamil Nadu, this district has a total area of ​​1,684 square kilometers. 32.7 percent of this is forest area.
The district is blessed with an average annual rainfall of 1,443 mm due to the monsoons such as South West Monsoon and North East Monsoon and also due to heat waves and storms. Rivers such as Tamiraparani, Palaiyaru, Valliaru, etc. make the fields here fertile. Along with agriculture, the ancient industry of fishing is also the main industry of the district. The district has a coastline of about 65 kilometers from Arogyapuram to Neerodi.
There are also rubber, rope, cashew and salt industries found here.
Abounding in nature like dense forest, towering hills and green spaces, one can easily feel that this district is a remnant of Kerala. On November 1, 1956, this district was separated from Kerala and merged with Tamil Nadu.
As per the 2011 census, the total population of this district is 18,70,374. There are 9,26,345 males and 9,44,029 females.
According to the voter list published in January 2018, there were 7,43,357 male voters, 7,32,734 female voters and 149 persons of the third gender voters, making a total of 14,76,240 voters of this district.
There are 6 assembly constituencies here. They are Nagercoil, Kanyakumari, Padmanabhapuram, Colachal, Vilavankode and Killiyur.
The entire district falls under the Kanyakumari parliamentary constituency.