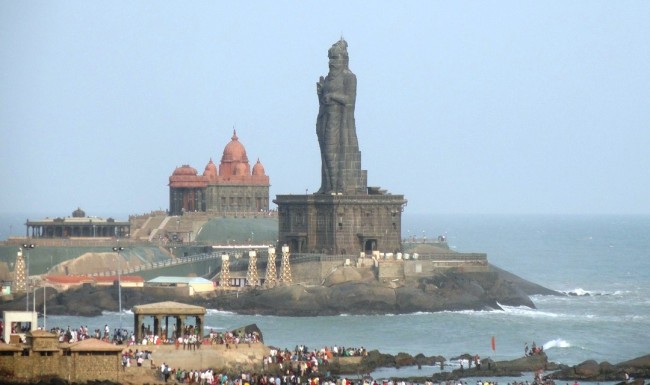 Kanyakumari Tourist Places
Kanyakumari (also known as Kanniyakumari, formerly known as Cape Comorin) lies at the southernmost tip of India, where the Arabian Sea, the Indian Ocean and the Bay of Bengal meet. It is an important pilgrim centre. Kanyakumari is the only place where one can see Sun Rise and Sun Set. Also on Chitra Pournami day, one can watch the Sight of Full Moon Rising and the Sun Set at the same place in same moment. This can be seen only at Kanyakumari in the entire Country.
Access:
Air: The nearest Airport is at Trivandrum (87 km).
Rail: Kanyakumari is well connected with all important cities.
Road: Kanyakumari is well connected by road.
Kanyakumari Beach
The beach is very excellent for bathing. Also one can see Sun rise and Sun set from Kanyakumari on non- cloudy days. It is a very beautiful sight. The Sun set is visible clearly from October 15th to March 15th. Click Here to read more…
Government Museum
Government museum is was started in 1991. It is situated in the Main road on the way to Gandhi Mandapam. This museum has many antiques like Rare photographs, stylus, palm leaf manuscripts, coins, statues etc.
Kumari Amman Temple / Bagavathi Amman Temple
This temple is dedicated to Parvathi as Devi Kanya, the Virgin Goddess who did penance to obtain the hand of Lord Siva. It is said that this temple was built by Parasuramar. Click Here to read more…..
Gandhi Mandapam
Mahatma Gandhi has visited Kanyakumari two times in 1925 and 1937. A memorial was constructed near the seashore where his ashes were kept before immersion in the sea on 12th February 1949. Click Here to read more……
Kamaraj Memorial
A memorial to K. Kamaraj, known as King Maker, a great freedom fighter, and who served as the Chief Minister of Tamil Nadu was constructed by the Tamil Nadu Govt. Click Here to read more…..
Vivekananda Rock Memorial
This memorial is dedicated to Swami Vivekananda and was built in 1970. Swami Vivekananda meditated on this rock for three days where this memorial stands today at the end of 1892 (25.12.1892), before his departure for Chicago to participate in the World Religious Conference in 1893.
Thiruvalluvar Statue
This statue of Thiruvalluvar was installed by the TN Govt. on the rock near the Vivekananda rock. The height of the statue is 133 feet. The foundation stone for the statue was laid in 1979.
Bay Watch
Bay watch is a water theme amusement park. This park is located on the Kovalam road, 2 km from Kanyakumari. There is an entrance fee for this park
Timings: 10.00 A.M to 7.30 P.M
Kovalam Beach (Near Kanyakumari)
An Excellent Beach and picnic spot.
Guganathaswamy Temple / Guhanadeeswara Temple
This is a 1000 year old Shiva temple and is said to have been built by Raja Raja Cholan.
Church of Our Lady of Ransom
This church is dedicated to our lady of Ransom. It is situated on the Kanyakumari main road, near the railway station.
Vattakkottai (Circular Fort)
This fort was renowned in the 18th century. Earlier in 1635 A.D., the fort was destroyed by the Thirumalai Nayakkar force. Again later in 1725 A.D., Azhagappa Muthaliyar forces destroyed the fort. In 1749 A.D., this fort was renowned by the advice of De Lennoy. The fort is overlooking the sea and is a fine picnic spot.
Suchindrum Thanumalayan Temple
This temple is situated in Suchindrum. This temple is a repository of art treasures. Musical pillars and a huge 18 ft. high Hanuman statue are proof of the artistic skill of the time.