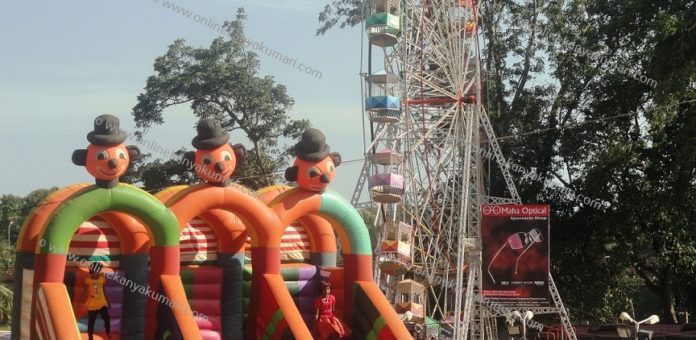 Kuzhithurai Vavubali Exhibition 2017 | 14.07.2017 to 02.08.2017 | குழித்துறை வாவுபலி பொருட்காட்சி
Kuzhithurai Vavubali Exhibition 2017 this year starts on 14th July 2017. Vavubali is one of the important Religious Festival that is celebrated by the people of Kanyakumari District. The main Religious Ceremony called as Vavubali is on 23rd July 2017. The vavubali is celebrated every year on the Aadi Amavasya Day. Aadi is one of the Tamil Month and Amavasya means New Moon Day. Vavubali is a festival of giving "bhali karmam" ( A Ritual) for ancestors which is held at the banks of the River Thamirabharani in Kuzhithurai.
History of Kuzhithurai Vavubali Exhibition
In ancient days, the Vavubali was celebrated only on the Aadi Amavasya day. On that day, large crowd of people participated in this festival. On seeing this, the then Kuzhithurai Municipal chairman T.C Kesava Pillai, had an idea of conducting an exhibition on behalf of Kuzhithurai Municipality. From 1926, The Kuzhithurai Vavubali Exhibition is being conducted by the Kuzhithurai Municipality. In the begining, the Vavubali exhibition was conducted only for three days. Later on, the duration was increased and this year, the Kuzhithurai Vavubali Exhibition is being conducted for 20 days. Kuzhithurai Vavubali Exhibition 2017 is the 92nd Vavubali Exhibition.
Attractions for All
Kuzhithurai Vavubali Exhibition 2017 will be loved by each and every one as there is many attraction like..

Plant lovers can buy plenty of plants, flowering plants, saplings of many trees.

Fancy items shops for ladies and women.

Ice creams, Sweets and tasty eatables for all. Freshly made "Thaen Kulal" Sweet.

Small entertainment rides like car, tora tora, giant ship, giant wheel, Magic Show for children.

 Death Well Entertainment in which bike and car is ride on a well made of wood.

Ring games, ball games for grown ups.

Exhibition of Plants, Agriculture products and hand made wonders to watch for all.

And Many more attractions to watch…
Time
Everyday Morning 8.30 A.M to 10.30 P.M
Transportation Facility
Kuzhithurai is situated on the Nagercoil to Trivandrum High way and hence all buses going to Trivandrum will stop at Kuzhithurai.
Bus facility is available at any time from Nagercoil, Kanyakumari, Thuckalay, Marthandam, Kaliakkavilai etc.
Advertisement