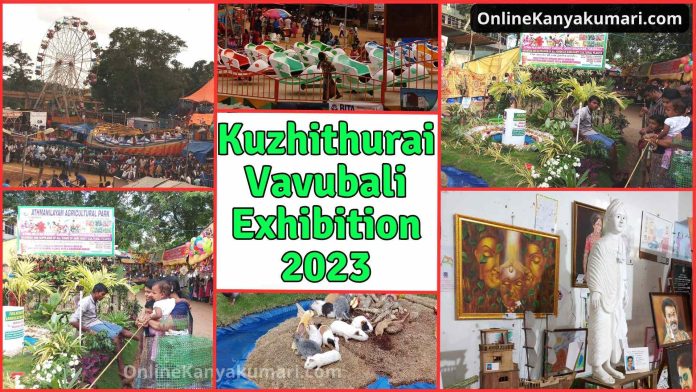 Kuzhithurai Vavubali Exhibition 2023 begins on 2nd August 2023, which is one of the greatest festivals in Kanyakumari District.
Kuzhithurai Vavubali Exhibition 2023 begins on 2nd August 2023. Vavubali is one of the important Religious Festival that is celebrated by the people of Kanyakumari District. The main Religious Ceremony called as Vavubali falls on 16th August. The vavubali is celebrated every year on the Aadi Amavasya Day. Aadi is one of the Tamil Month and Amavasya means New Moon Day. Vavubali is a festival of giving "bhali karmam" (A Ritual) for ancestors which is held at the banks of the River Thamirabharani in Kuzhithurai. It concludes on 21st August, 2023.
Aadi Amavasai Day 2023
Aadi Amavasai 2023 will be observed on August 16th, 2023.
Inauguration on 2nd August
The 20 days Vavubhali exhibition in Kuliturai will be inaugurated on 2nd August, 2023.
The Kuzhithurai Vavupali Fair has been being held for the past 96 years on behalf of Kulithurai Municipality for 94 consecutive years. But due to corona virus lockdown, Vauvali exhibition was not held for the 2 years in 2020 & 2021.
The Vaaupali fair will feature agricultural produce fair, craft fair, various shows and various entertainments. An entry fee is charged to view them.
This Vaaupali exhibition is held every year at a place owned by the municipality on the banks of the Tamiraparani river in Kulithurai.
Major Attractions in Kuzhithurai Vavubali Exhibition 2023
A large number of plants, tree sapplings and vines, including mangoes, jackfruit, coconut saplings, fruiting seedlings and vegetable plants, blooming multi-colored flower plants, have been available for sale.
Ice creams, eatables, sweets and Freshly made "Thaen Kulal" Sweet.
Plenty of fancy items for ladies.
Plenty of toys for children.
Entertainment programs for children and adults.
Magic mirror, Nagakanni, death well, magic show etc.
Rides like Giant wheel, Giant Boat, Cup & Saucer etc.
Stalls of medical, agriculture and other government and private sectors.
And Many more attractions to watch…
A 24-hour medical service and fire department are also stationed at the premises.
Transportation Facility
Kuzhithurai is a town situated on the Nagercoil to Trivandrum High way and hence it is well connected.
Bus facility is available frequently from Nagercoil, Kanyakumari, Thuckalay, Marthandam, Kaliakkavilai, Trivandrum etc.
Airport
Tuticorin – 142 kms.
Madurai – 270 kms.
Trivandrum – 42 kms
By Rail:
Kuzhithurai Railway Station (Station code: KZT) is the closest train facility available.
By Road:
Bus facility is available frequently.
Nagercoil – 29 kms
Madurai – 270 kms.
Tirunelveli – 110 kms
Kanyakumari – 50 kms.
Exhibition Season
August 2n to 21st, 2023
Visiting Hours
8.00 am to 10.00 pm.
Entry Fee
Adults: Rs.20/-
Children: Rs.10/-
There is separate charge for parking also.
Kuzhituhurai Vavubhali Photo Gallery
Kuzhithurai Vavubali Exhibition Google Map Location