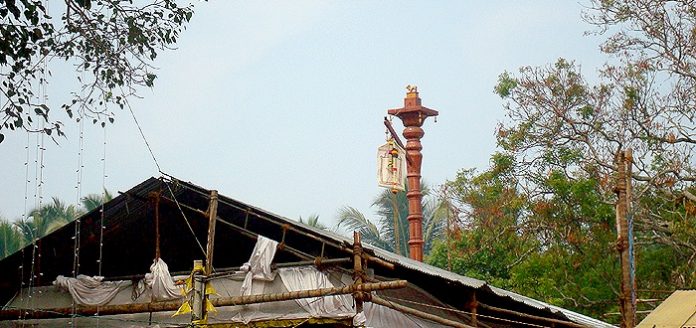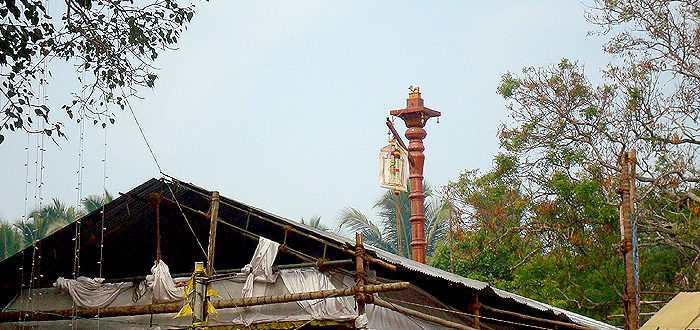 Mandaikadu Bhagavathi Amman Temple festival 2021
Mandaikadu Bhagavathi Amman Temple festival 2021 (Kodai / Koda) will be started on 28.02.2021, with the hoisting of flag ceremony. This festival is celebrated for 10 day. It is one of the Greatest and Famous Temple Festival in Kanyakumari District.
Masi Festival / Mandaikadu Kodai or Koda
This is the most important and largest festival observed in this world famous Bhagavathi Temple situated at Mandaikadu, 2 kms. from Colachel in Kanyakumari District. This Temple is called as the "Sabarimalai of Women".

On 28th February early morning at 4.30 AM, the Temple doors are opened followed by Ganapathi Homam at 5.00 A.M., Abishegam at 5.30 A.M, Bajanai at 6.00 A.M and Usha Poojai at 6.30 A.M. The flag is hoisted at morning between 7.30 AM to 8.30 A.M.
Afternoon at 12.30 P.M., there is Uchchi Kaala Pujai.
Evening at 6.00 P.M., there is Shri Raja Rajeswari Puja and 9000 lamps "Thiruvilakku Pujai".
On every day during this festival, goddess is taken in Silver Chariot, around the streets of the Temple in Procession.
Valiya Padukkai (Maha Pujai)
On 5th March 2021 (Friday), Valiya Padukkai Puja (Maha Puja) will be held at midnight 11.30 to 12.30. It is the 6th day of the Festival which is very important and has more specialty.
Odukku Pujai
On 9th March 2021 (Tuesday), Odukku Pujai and Deeparathanai will be held at midnight 11.30 to 12.30. This is the final day of the festival.
Ettam Kodai
After the festival is over, the eighth day Tuesday is called as Ettam Kodai. This year 2021, the Ettam Kodai is on 16.03.2021 ( 16th March, 2021 Tuesday).
Meenabharani
Meenabharani is on 17.03.2021 (7th March, 2021 Wednesday).
Full Arrangements by Govt. for Mandaikadu Bhagavathi Amman Temple festival 2021
Vast people come from Kanyakumari District, Tamil Nadu and Kerala.
The Tamil Nadu Government has made necessary arrangements like
* More than 200 Special buses will be operated by TNSTC from Nagercoil, Thuckalay, Marthandam, Kanyakumari, Kulasekharam, Kaliyakkavilai, Thingal Nagar, Colachel etc.
* Special bus stand in Mandaikadu.
* Medical Emergency aid & Drinking water facility, etc.
Also the Kerala State Road Transport Corporation operates special bus service from Trivandrum (Thiruvananthapuram) for Mondaikadu Bhagavathi Amman Temple festival 2021.
Contact Details
Arulmigu Bhagavathyamman Thirukkoil,
Mandaikadu,
Kanyakumari District – 629 702.
Phone : 04651 – 222596