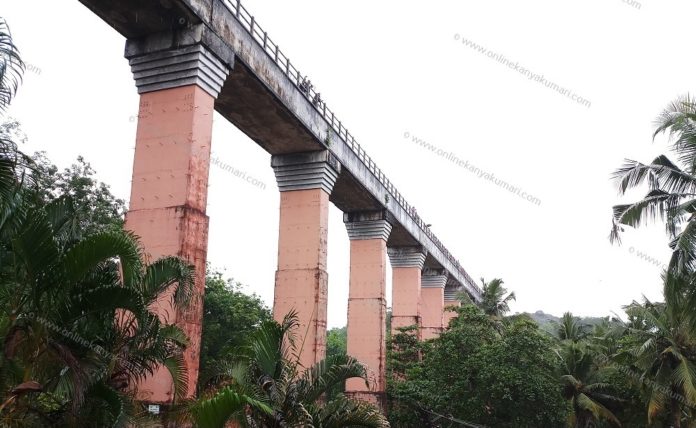 Mathoor Hanging Bridge, also called as Mathur Aqueduct, Mathoor Aqueduct, Mathoor Hanging Trough, Mathoor Thotti Paalam is the highest aqueduct in Asia. This aqueduct is built between the two mountains "Kaniyaanparai" and "Kootuvayuparai". The purpose was to carry water from Pahrali River for irrigation purpose of Kalkulam and Vilavancode Taluks.
Structure Of Mathoor Hanging Bridge (Mathur Aqueduct)
The construction was started by the then Chief Minister of Tamil Nadu Shri. K. Kamarajar in 1962 and was completed in 1969. The length is 1240 ft and the maximum height is 115 ft. The water flowing trough is 7 ft in height and 7.5 ft in width. The Mathoor Aqueduct is supported by 28 pillars.
The canal water that starts from the Cittar – 1, will flow through Cittar, Kulasekharam, Mathur, Chetticharvilai, Kannanur, Swamiyarmadam, Chirayankuzhi, Karungal towns and merges in the sea in ArasaKulam area near Thengapattanam.
Tourist Attraction:
This is one of the most popular tourist places in Kanyakumari district. In one side of the trough, the water flows and another side is a pathway for people and tourists to walk and enjoy the view. The walking pathway is about 3 ft wide with handle wall on both sides so that we can walk easily.
The view from the centre of the bridge is awesome to see the Western Ghats, greenery and river flowing below. Just come and enjoy.
It is located in Mathoor, around 60 km from Trivandrum.
Visiting Hours
9.00 A.M to 6.00 P.M
| | |
| --- | --- |
| Distance Chart | |
| Kanyakumari | 60 km |
| Nagercoil | 45 km |
| Thiruvattar | 3 km |
| Trivandrum | 60 km |
| Tirunelveli | 110 km |
Mathoor Hanging Bridge Photos