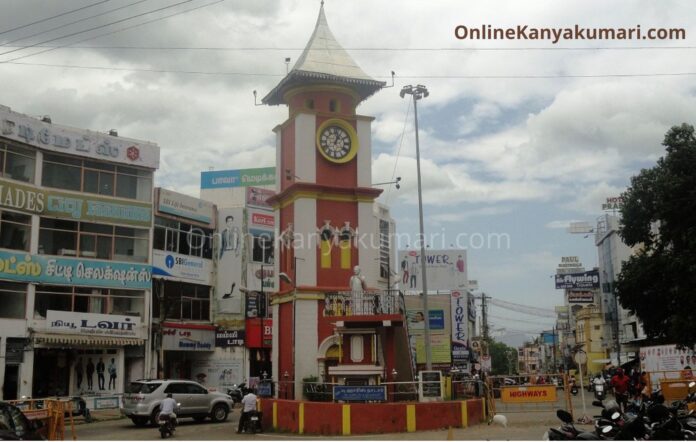 When we say about Nagercoil City, the first thing that comes quickly to our mind is the Nagercoil Clock Tower. It is situated in the heart of the Nagercoil City and the area where the clock tower stands is called as "Manimedai" or Tower Junction. It stands as the Landmark of Nagercoil City.
History of Nagercoil Clock Tower
The Clock Tower was constructed on the occasion of Sri Moolam Thirunal Maharajah's visit to Nagercoil in 1890 A.D.
A five member committee was formed to take steps in constructing the Clock Tower. The Clock Tower was designed by Hogeorf and S. Horesly of England. The clock in the Clock Tower was presented to the Maharajah by the European LMS Missionary, Rev. Duthie. Travancore State Officers Krishna Iyer and Retna Swamy Iyer were entrusted with the construction of the Clock Tower.
The Foundation stone for the Clock Tower was laid in 1891 A.D. The construction of the Clock Tower began in July 1891 A.D., during the period of Sri Moolam Thirunal Maharajah.
Mr. Horsely went on a leave shortly when the construction had begun. His place was filled by K. K. Kurivilla and under his supervision; the Nagercoil Clock Tower construction was completed in 1893 A.D. and was inaugurated by Maharajah Sri Moolam Thirunal Varma on 15th February 1893.
The clock was made in Derbyshire by Smith of Derby Group in London. Actually the clock was being used in London for 20 years, before it was been presented. It is said that the bell sound which rang from the clock could be heard even from the radius of 3 kms.
There is a Direction Compass on the top of the clock tower along with a lightening conductor.
The total cost for constructing the Nagercoil Clock Tower was Rs.3258, 9 Chakrams and 12 Kasu. The Maharajah of Travancore donated Rs.1017/- and the balance was donated by the public.
Aftermath Clock Tower Construction
Once the Clock Tower was completed, the town started to expand around it.
On those days, people would come from many parts of the district to see this clock tower.
In 1913 A.D., the bus services were introduced. At that time, Tower Junction became the boarding point for private buses which operated to different parts of the District.
A statue of Kalaivanar N. S. Krishnan was erected in front of the Clock Tower by the order of the Chief Minister M.G.R and was inaugurated on 14th April, 1972.
Present Condition
Presently the Clock in the Tower is not in working condition as there is no expert available here to bring it back to working condition. Earlier the clock was repaired by an expert from Trivandrum who had passed away. The Nagercoil Municipality Chairman has assured to repair the clock at the earliest.
Nagercoil Clock Tower Photo Gallery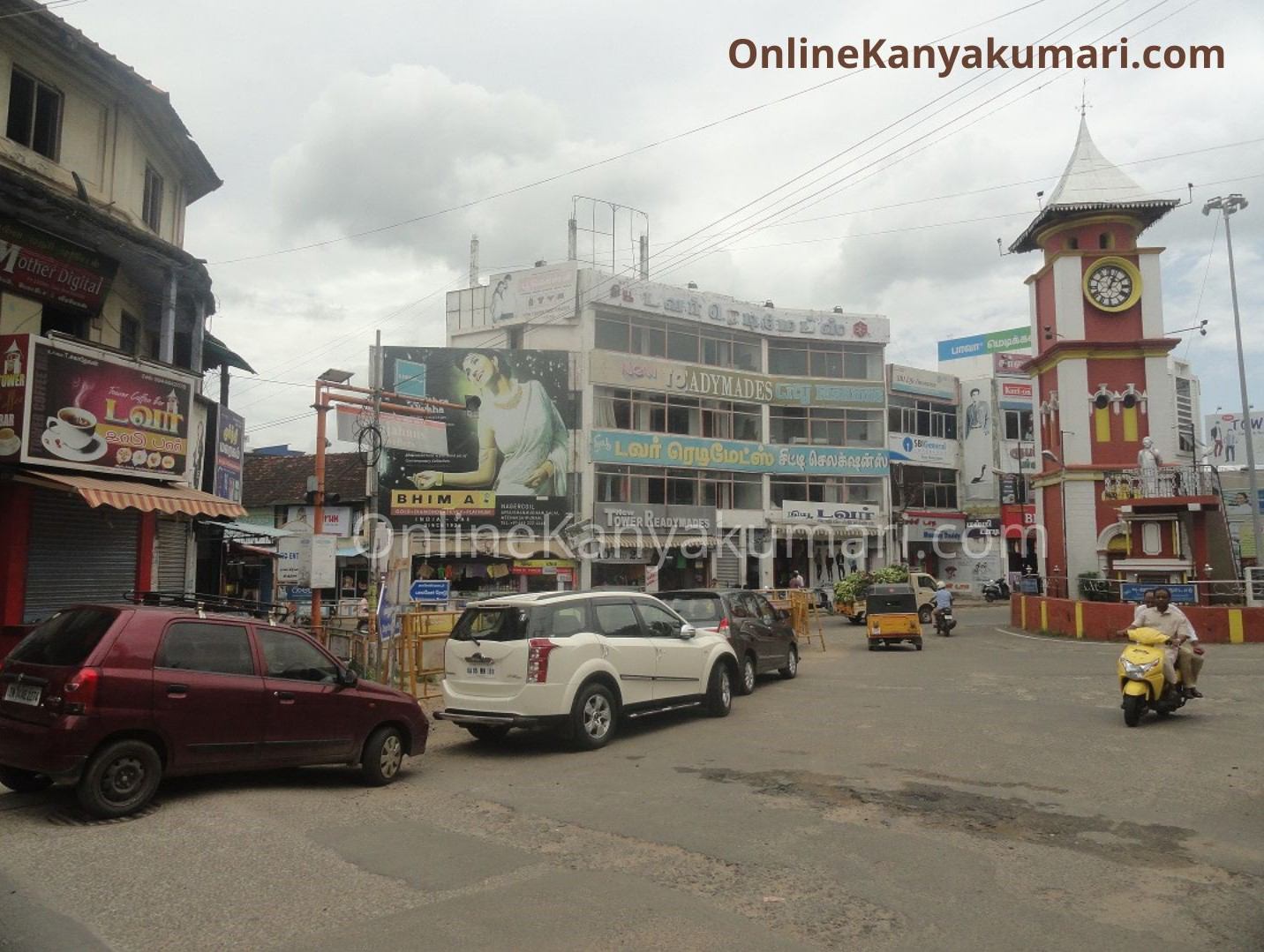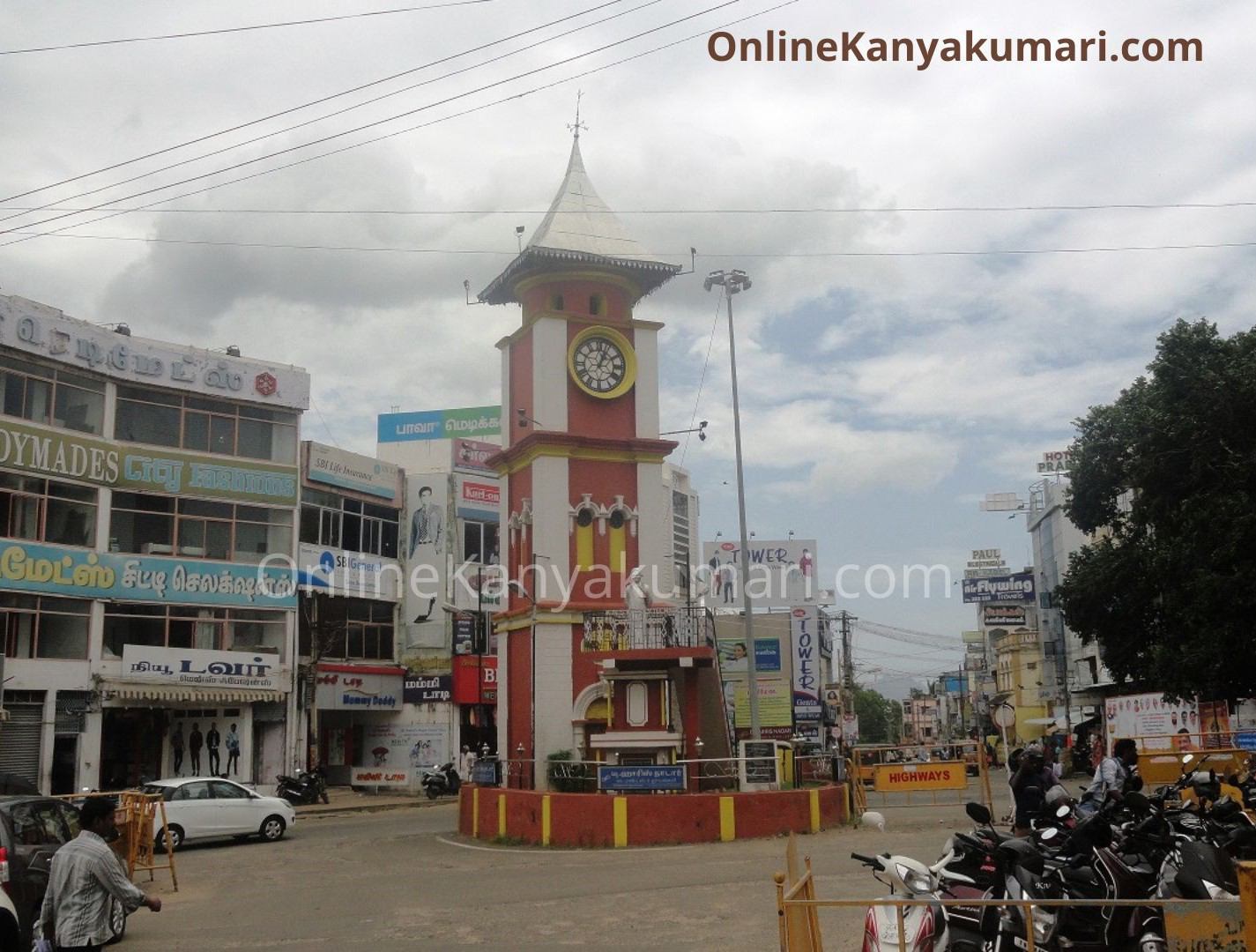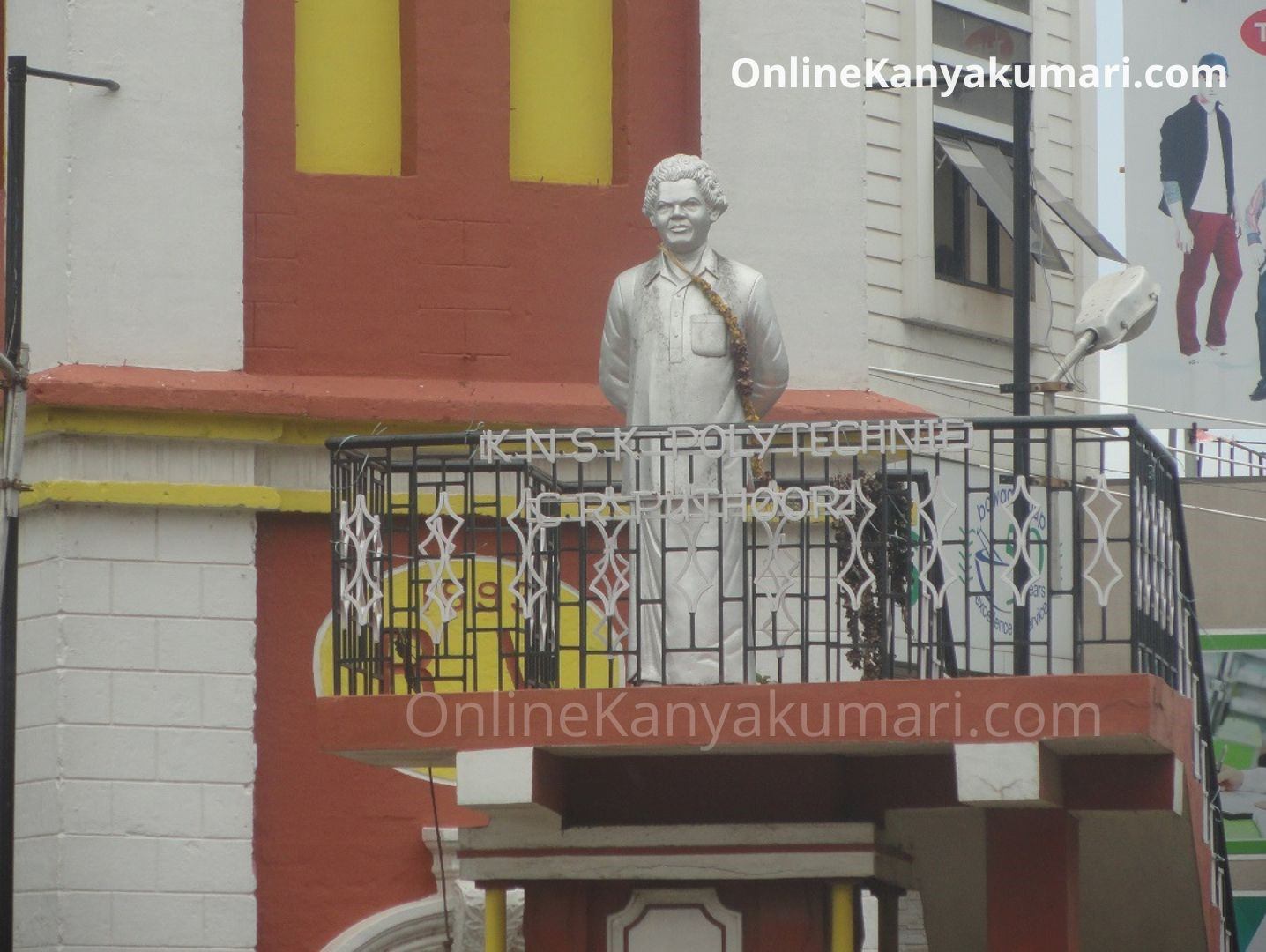 Nagercoil Clock Tower Google Map Location