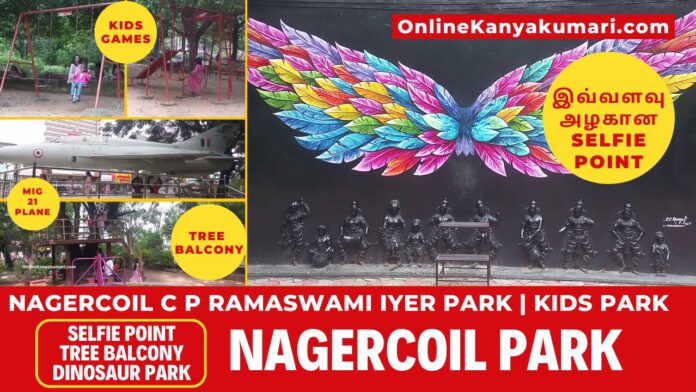 Today, we are going to visit Sir C P Ramaswami Iyer Park in Nagercoil, Kanyakumari District, which is also known by other names like Nagercoil Park, Nagercoil municipality park, veppamoodu park, jurrasic park, dinosaur park etc.
Nagercoil Park Location & Details
Nagercoil Park is located at a distance of five hundred feet from Anna Bus Stand and about one and a half kilometers from Vadaseri Bus Stand, at Veppamoodu junction.
Sir C P Ramaswamy Iyer served as Dewan of Travancore from 1936 to 1947. This park is built in his memory.
The park is open daily from 9 am to 8 pm.
A fee of Rs 10 is charged for adults and Rs 5 for children.
Vehicle Parking is also available in the park. People can park their car or 2 wheeler at this park and go for shopping. The parking fee for Four-wheelers is Rs.40 and two-wheelers is Rs.20.
Come on, let's take a walk around the park…
At the entrance, there is a gigantic dinosaur statue…. That's why this park is also called Dinosaur Park and Jurassic Park.
The park is kept clean. For sitting, there are benches made of cement. Morning or evening, it is a great place to relax and spend time with family. The park is lush with many types of plants and huge trees around. There are many birds and squirrels in the park.
This mahatma Gandhi memorial stupa was built by Kalainanar NS Krishnan in 1949.
For children, there are games like swing, slide, seesaw. Newly, a selfie point has been set up here.
There is a tree balcony, which is a great place to take photos and selfies.
The training aircraft of our Indian Army, MiG-21, which is on display is also a great attraction.
There is no snack canteen in the park. A snack canteen would have been better. So when you come here, you can bring some snacks to eat.
Definitely, you, along with your family and friends, come and enjoy this park!
Best Season
Any time is good.
Visiting Hours
9.00 am to 8.00 pm.
Entry Fee
Adults: Rs.10/-; Kids: Rs.5/-
4 Wheeler Parking: Rs.40/-;
2 Wheeler Parking: Rs.20/-
Nagercoil Park Photo Gallery
Sir C P Ramasamy Iyer Memorial Park Google Map Location