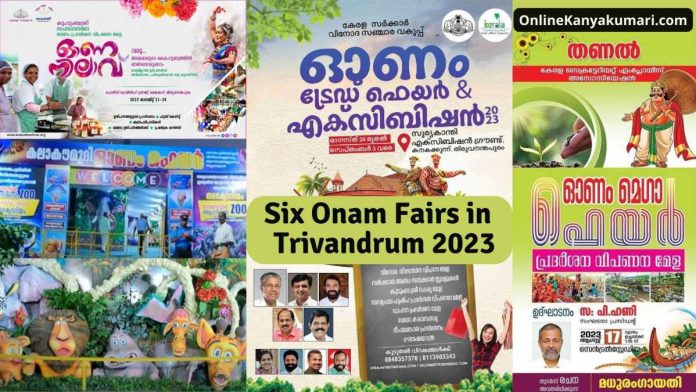 Onam is one of the most celebrated festival in Kerala. People do shopping for dresses, provisions, fruits, vegetables etc to celebrate Onam. Fairs and exhibitions are conducted to make the shopping a great experiece. So lets see all the Onam Fair Trivandrum 2023 and All Exhibitions in Trivandrum for Onam 2023.
These exhibitions offers both entertainment and shopping experience to the people. Lets get into the fairs…
ഓണാഘോഷം – Grand onam-week Celebrations from August 27th to September 2nd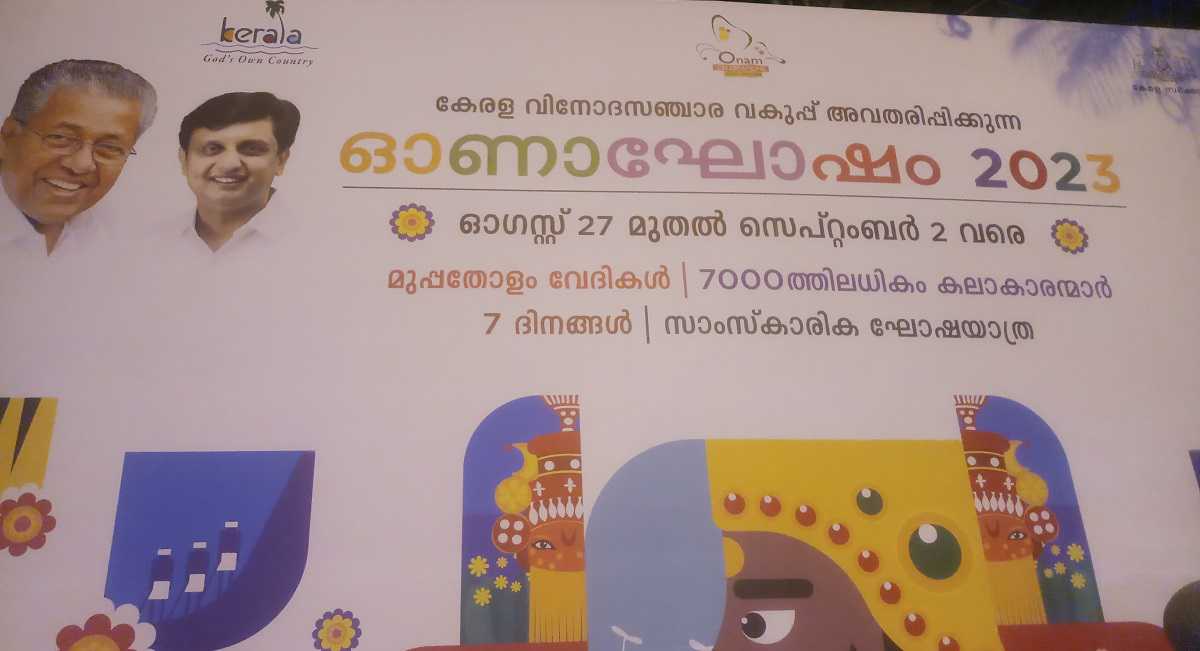 Full Schedule of ഓണാഘോഷം in Trivandrum 2023
Attractive Colorful Onam Procession on 2nd September, 5pm
Colourful pageantry procession to bring curtain down on Onam festival. The week long onam celebration will end on saturday 2nd September, 2023 with the colorful procession of floats from Manaveeyam Veedhi via Vellayambalam and conclude at East Fort.
Governor Arif Mohammed Khan will flag off the pageantry at 5pm at Manaveeyam Veedhi.
This year, there will be 60 floats and 10 artforms from other states. This includes Thappu from Tamil Nadu, Tappeta Gullu folk dance from Andhra Pradesh, Veeragase dance from Karnataka, Lavani dance from Maharashtra, Sambalpuri folk dance from Odisha, Bodo folk dance from Assam etc which are going to be performed by around 180 artistes. Totally around 3,000 artistes would participate in the procession.
Security arrangements and special arrangements for tourists and differently abled children has been done elobrately.
Venue: Vellayambalam to Eastfort, Thiruvananthapuram.
Date: 02.09.2023. (September 2nd, 2023)
Time: 5.00 PM
Ticket Price: Free
Kalakaumudi Fun World Onam Fair 2023
Kalakaumudi-Funworld Onam Fair 2023 has begun on 17th August 2023. The fair is organized at Anayara World Market Grounds, Anayara in Thiruvananthapuram. Kalakaumudi Onam Fair is organized in association with Fun World, Bengaluru's one of the largest amusement park.
An amusement park has been set up with never before seen rides in Kerala. The rides can be enjoyed by children and adults. For the first time in India, a foreign-made tunnel aquarium is being showcased with the undersea wonder.
Apart from that, trade fair, robotic animal zoo and magical adventure rides are also special features of this Kalakaumudi-Funworld Onam Fair.
Former President Dr. A.P.J. Abdul Kalam Biography Pavilion is also a special feature of the fair. Another highlight of the Onam fair is the food court. A variety of food is prepared in the fair. The food court will function following all the norms of the State Food Safety Department.
Venue: Anayara World Market, Near LuLu Mall, Venpalavattam, Thiruvananthapuram.
Contact: 8848756337 / 9769442319 / 9656550000.
Date: From 17.08.2023 for a period of 45 days.
Time: 11.00 AM to 9.00 PM
Ticket Price: Rs.100/- per person. [seperate price for rides & rides price vary depending on the rides]
Onam Trade Fair & Exhibition 2023 @ Suryakanti Exhibition Ground
Consumer Fair, Furniture Expo, Jewellery Expo, Agri Expo, Auto Expo, Handloom Fair, Food Mela and more…. More than 200+ stall… This is one of the best Onam Fair Trivandrum 2023.
Don't miss this exhibition….
Venue: Suryakanti Exhibition Ground, Kanakakunnu, Near Museum, Thiruvananthapuram.
Contact: 8848357378 / 8113903343.
Date: From 27.08.2023 to 02.09.2023.
Time: 10.00 AM to 9.00 PM
Supplyco Onam Fair 2023
Supplyco Onam Fair 2023 is conducted by Kerala Supplyco. Kerala Chief minister Mr. Pinarayi Vijayan inaugurated the Supplyco Onam Fair 2023 at Putharikkandam Maidan, Thiruvananthapuram on August 18th.
Consumers can purchase provisional and grocery items at 5% to 50% discount. Subsidy and non-subsidy items can be purchased here.
There are also stalls of Milma, Kudumbasree, Kerafed etc.
Venue: Putharikandam Maithanam, East Fort, Thiruvananthapuram.
Date: From 18.08.2023 to 28.08.2023.
Time: 10.00 AM to 9.00 PM
Ticket Price: Free
Onam Khadi Mela 2023
Consumers can purchase textiles and readymades at discounted price.
Venue: Attukal shopping complex, Thiruvananthapuram.
Date: From 02.08.2023 to 28.08.2023.
Time: 10.00 AM to 9.00 PM
Ona Nilavu – Kudumbashree Onam Vipanana Mela 2023
All Kudumbashree's unique products will be available at the fair, from its own flowers for flower arrangements to fruits and vegetables for preparing food.
Apart from 50 stalls selling products of Kudumbashree entrepreneurs and Krishi Sangh members, there are special Onam counters and a food court at the Onam Mela held at Thaikkad. There are also arts and cultural programs every day at 5 pm from the 23rd.
On 23rd evening at 5 pm, there will be various performances by Kudumbashree members. Film Academy Vice Chairman Prem Kumar will officially inaugurate the cultural programs. Poet and lyricist Girish Puliyur will inaugurate the Kaviarang on 24th. On 25th 'Dheeram' – Karate performance by Kudumbashree members will be inaugurated by film star Shailaja Ambu.
On 26th, Kalaripayat program of Kudumbashree Balasabha members will be inaugrated by media person Parvati Devi. On 27th, poet Murugan Kattakkada will inaugurate the 'Thitamb' art show performed by the artists of Adivasi village.
Venue: Thaikkad Police Training Ground, Thiruvananthapuram.
Date: From 22.08.2023 to 28.08.2023.
Time: 10.00 AM to 9.00 PM
Facebook: https://www.facebook.com/KudumbashreeOfficial