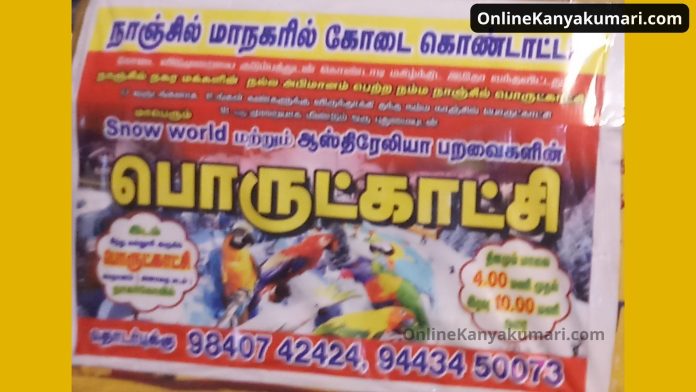 Snow World Exhibition in Nagercoil 2023 is a great entertainment for the people of Kanyakumari district to enjoy the summer holidays. The Exhibition has started in April 14th, 2023.
VIEWERS 
PLEASE
NOTE THAT, THE EXHIBITION HAS ENDED ON 04.05.2023.
Snow World Exhibition in Nagercoil 2023
Snow World Exhibition in Nagercoil 2023 has been inaugurated in Nagercoil. Enjoy the Snow World Exhibition for shopping household needs, enjoying snacks and playing in rides. This Exhibition is Completely innovating and Magnificently created in Nagercoil …
Entertainment
In Snow World Exhibition, there is a snow house which makes us cool. We could also see many other attractions in this exhibition.
Also there are many entertainment games for children and everyone like Tora Tora, Coaster, Dragon, Giant Wheel, Brake Dance, Colombus, Train etc. are also found. For small children there are small rides like car, Helicopter, water boat ride etc.
Many families come here and enjoy the London Bridge taking photos and selfies. Then they shop for products, take rides in games and finally have some tasty foods.
Tasty Foods
For people visiting the exhibition can taste and enjoy North Indian foods like Delhi Pappad, Paani Puri, Pop Corn, Chola Puri, Madurai Jigirthanda, Ice cream, Cool drinks, Kumbakonam Degree Coffee, Tea etc.
Shopping
Peoples can purchase house hold things ranging from Rs.10/- to Rs.30000/-. There are around 50 stalls from which visitors can purchase house hold things, fancy items, Ready made dresses, beauty products, foot wears, furniture, pillows, pillow covers etc.
Venue : Anathai Madam ( Porutkatchi Maithanam), Near Hindu College, Nagercoil.
Time : Daily 4.00 PM to 10.00 PM.
Period : From April 14th, 2023.
Ticket : Rs.90/-. [ Free for children upto 3 years age ]
For Enquiries: 9840742424 / 9443450073

Image Source : Daily Thanthi Dated
For Latest Events, Click Here…