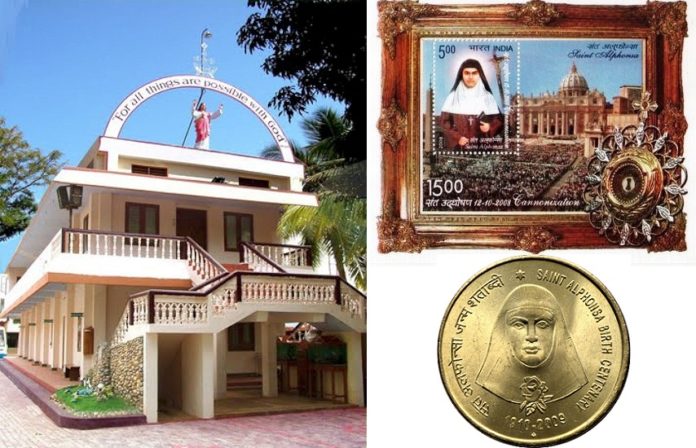 St Alphonsa Shrine Church Nagercoil is located in Nagercoil in the Alphonsa Nagar, A. R. Camp Road. Apart from people of southern Tamilnadu, the people of Kerala also come here to pray. It is noteworthy that this is the first Church in Tamil Nadu of St. Alphonsa.
About St Alphonsa Shrine Church Nagercoil
This is a Syro-Malabar Church. Syro-Malabar Church is the second largest Eastern Catholic Church in the world who accept the Pope as the "Visible head of the whole Catholic Churches". In Kanyakumari District, this mission was founded by the Archdiocese of Changanacherry in 1960. In 1996, Syro Malabar Diocese of Thuckalay was declared and His Excellency Mar George Alencherry was consecrated as its first Bishop.
Blessed Alphonsa Church was blessed on 10 September 1989 by Rev. Fr. Mathew Vakkayil. This is the first Church in Tamil Nadu in the name of St. Alphonsa. In 13 August 1993, this Church was consecrated by His Excellency, Mar Joseph Powathil, the Archbishop of Changanacherry after this Church was renovated in the Syrian style. Huge devotees come here seeking the Blessings of God through St. Alphonsa. The feast is celebrated at this Church for ten days in the month of July every year. Alphonsa Matriculation Higher Secondary School is attached to this Church. This Church comes under the jurisdiction and the episcopal care of the Syro Malabar Diocese of Thuckalay.
The Vicars of St Alphonsa Shrine Church Nagercoil
The first Parish priest Rev. Fr. Mathew Kuzhinjalil – 1989 to 1992.
Rev. Fr. Mathew Odalani – 1992 to 1993.
Rev,Fr.Thomas Powathuparambil – 17.02.1993 to Till Date.
Life of St. Alphonsa
Saint Alphonsa was born on 19th August 1910 in the village of Kudamaloor, Kottayam district in Kerala as the fourth daughter of Joseph and Mary. She was at the time named as Anna Muttathupadathu and was lovingly called as "Annakutty". Her mother Mary died a few months after her birth. Alphonsa who lost her mother at a young age, was raised by her maternal aunt. She was educated by her great uncle Fr. Joseph. She suffered with eczema when she was three years old. She was baptized in the Church at Kudamaloor. She had her education at Kudamaloor and Muttuchira.
Saint Alphonsa decided to become a nun by dedicating her life to Jesus Christ on reading the biography of St. Therese of Lisieux. But her aunt refused it and wanted her to get married. In 1923, she burnt her feet by felling into a pit burning of chaff. Due to this accident, she became partially disabled. Finally her aunt gave consent to join her in convent.
In 1927, she joined the convent school of the Franciscan Clarist Sisters (FCC) at Bharananganam. On 2nd August 1928, she received the postulant's veil and took the name Alphonsa of the Immaculate Conception. Alphonsa entered the novitiate of the congregation at Bharananganam on 19th May 1930. She completed her novitiate and took her first vows on 11 August 1931. On 12 August 1936, she took her permanent vows. For most of the years, she was in serious illness.
In December 1936, Fr. Kuriakose Elias Chavera, miraculously cured her. But again on 14 June 1939, she had an attack of pneumonia. In 1940, an incident caused her to suffer amnesia. During July 1945 she developed gastroenteritis and liver problems. After serious health problems, she died on 28 July 1946, at a young age of 36. She was buried at St. Mary's Catholic Church, Bharananganam.
The diocesan process for beatification of St. Alphonsa was inaugurated by Cardinal Eugene Tisserant on 2nd December 1953. Also she was declared as a Servant of God. On 9 July, 1985 she became "Venerable Sister Alphonsa" approved by Pope John Paul II. On 8 February, Venerable Sister Alphonsa was beatified at Kottayam by Pope John Paul II during his Apostolic Pilgrimage to India.
Pope Benedict XVI, announced her canonization on 12th October 2008, at a ceremony in Saint peter's Square. St. Alphonsa was the First Women of Indian origin to be canonized as a Saint.
St Alphonsa Shrine Church Nagercoil Worship Timings
Sunday Holy Mass: 7.00 A.M
Weekdays Holy Mass: 6.00 A.M
Holy Mass & Adoration: 6.00 P.M (First Friday)
St. Alphonsa Novena: 6.30 P.M (First Saturday)
Contact Details
Saint Alphonsa Church
A.R.P. Camp Road
Alphonsa Nagar
Nagercoil – 629 002
Kanyakumari District
Tamil Nadu.
+91 4652 265441
+91 4652 265863
[email protected]
[email protected]
alphonsachurch.org