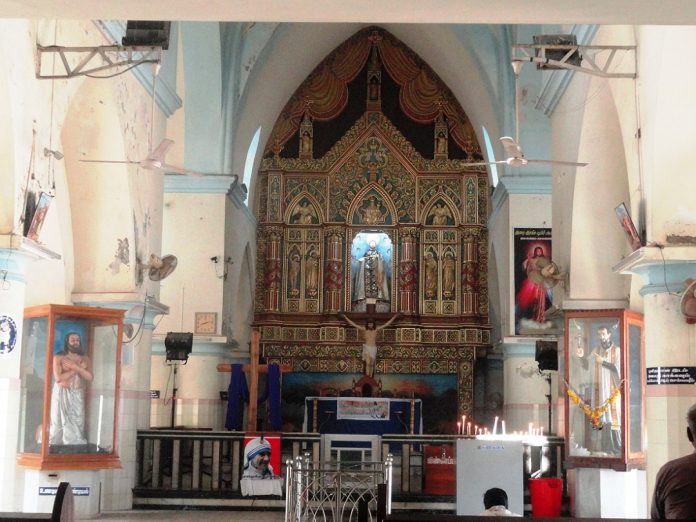 For the History of St. Xavier Church, Kottar PLEASE CLICK HERE
St. Xavier Church Kottar Festival 2017, The 10 day Festival at St. Xavier Church in Kottar will commence on 24.11.2017 with hosting of flag at evening 6.30 pm. The final day of the festival is on 04.12.2017.
Dedication of Renovated Church Festival 2017
(புது பொலிவூட்டப்பட்ட பேராலய அர்ச்சிப்பு விழா)
On November 18th, 2017 the dedication festival of the newly renovated Church is at 5.30 PM. The function is presided by His Excellency The Bishop of Kottar Fr. Nazarene Soosai. Followed by Holy Supper at 7.30 PM.
19.11.2017 : Gospel Festival @ 6.30 PM (நற்செய்தி பெருவிழா கொண்டாட்டம்)
20.11.2017 : Gospel Festival @ 6.30 PM (நற்செய்தி பெருவிழா கொண்டாட்டம்)
21.11.2017 : Gospel Festival @ 6.30 PM (நற்செய்தி பெருவிழா கொண்டாட்டம்)
St. Xavier Church Kottar Festival 2017
Festival Celebration Program Schedule Table
Day
Event
Timing
24.11.2017

Holy Mass

Holy Flag Hoisting followed by Novena and Holy Mass

6.15 AM

6.30 PM

25.11.2017

to

01.12.2017

Holy Mass

Rosary, Novena Prayers, followed by Holy Mass

5.30 AM

6.30 PM

02.12.2017

Holy Mass

Rosary, Novena Prayers, followed by Holy Mass

The Retired Bishop of Kottar the Most Rev. Peter Remegius.

Car Procession

6.15 AM

6.15 PM

10.30 PM

03.12.2017

Evening Special Adoration by His Excellency The Bishop of Kottar Fr. Nazarene Soosai.

Car Procession

6.30 PM

10.30 PM

04.12.2017

Pontifical High Mass presided over by His Excellency The Bishop of Kottar Fr. Nazarene Soosai.

Holy Mass in Malayalam

Car Procession

Holy Mass in Temple Car

6.00 AM

8.00 AM

11.00 AM

7.00 PM
For More Details, Please Contact: 04652 – 224020
Advertisement