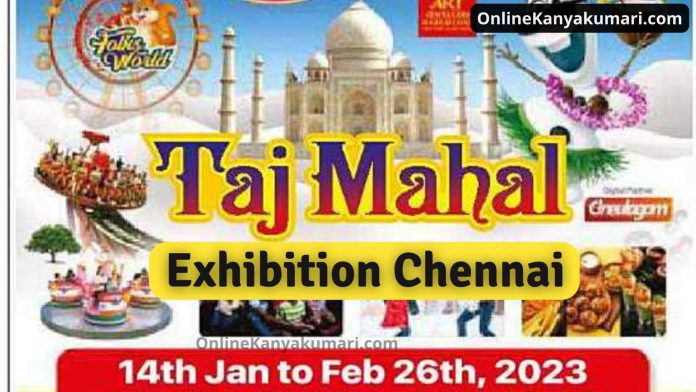 Taj Mahal Exhibition 2023 is a great entertainment for the people of Chennai. The Exhibition has started in January and will be held till February 26th 2023.
Taj Mahal Exhibition Chennai 2023
Taj Mahal Exhibition Chennai 2023 has been inaugurated in Chennai. Enjoy the Taj Mahal Exhibition Chennai 2023 for shopping household needs, enjoying snacks and playing in rides.
Entertainment
Taj Mahal Exhibition 2023 has many entertainments like stalls for shopping, Amusement, Food court to enjoy various foods, Games, Snow Show, 3D show etc.
The replica of Taj Mahal at the entrance is very well beautifully made here. Many details about Taj Mahal is written in the walls. We can take many different photos and selfies also.
Also there are many entertainment games and rides for children and everyone like Tora Tora, Coaster, Dragon, Giant Wheel, Brake Dance, Colombus, Train, cup saucer, Disco Coaster etc. are also found. For small children there are small rides like car, Helicopter, water boat ride, etc.
Many families come here and enjoy the Taj Mahal Exhibition for taking photos and selfies. Then they shop for products, take rides in games and finally have some tasty foods.
Tasty Foods
There are are many stalls for food court where visitors can taste and enjoy North Indian and South Indian foods like Delhi Pappad, Paani Puri, Pop Corn, sweet corn, Chola Puri, Madurai Jigirthanda, Ice cream, Cool drinks, Coffee, Tea, cotton sweet, Sugar cane juice, cauliflower pakoda, etc.
Shopping
Visitors can purchase many house hold things ranging from Rs.10/- to Rs.30000/-. There are around 50 stalls from which visitors can purchase toys, house hold things, fancy items, Ready made dresses, beauty products, foot wears, furniture, pillows, pillow covers, carpets, watches, etc.
Venue : Tambaram Railway Ground, Chennai.
Time : Daily 4.00 PM to 10.00 PM. (Weekdays) 12.00 PM to 10.00 PM (sunday)
Period : January 11th Till February 26th, 2023.
Entry Ticket : Rs.60/-.
Bike Parking : Rs.30/-.
For Enquiries: 99523 39023 / 98841 54995 / 90253 17168

Image Source : Daily Thanthi Dated 12.02.2023
For Latest Events, Click Here…