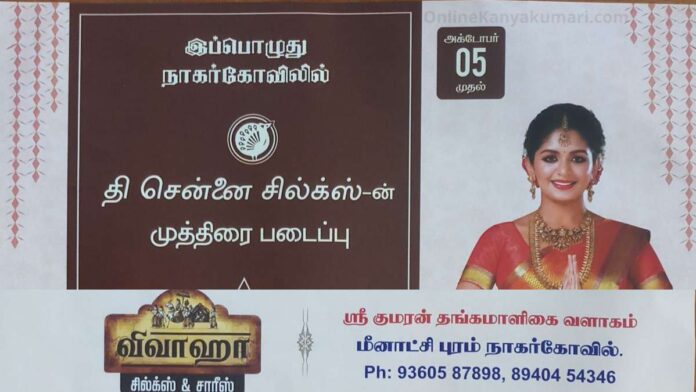 The Chennai Silks Nagercoil
Sree Kumaran Thangamaligai Campus,
73A/73B, Police Station Road,
Meenatchipuram, Nagercoil 629001.
Contact: 9360587898 / 8940454346
Website: www.sktm.in/
VIVAHA Silks & Sarees, which is a part of The Chennai Silks is now in Nagercoil from October 5th, 2022. The people of Kanyakumari district can now shop for silks and sarees from VIVAHA Silks & Sarees, as before they need to visit Tirunelveli to visit the Chennai Silks.
VIVAHA Silks & Sarees have a great collection of Silks and sarees. This is located inside the Sree Kumaran Thangamaligai campus and hence shopping can be done for both Jewellery and Sarees.
Coupons, Offers & Discounts @ VIVAHA Silks & Sarees Nagercoil
Few of the Offers that are presently available in October 2022 are as following. Please visit the showroom directly to know more offers and discounts.
2 Silk Sarees @ Rs.2500/-
2 Silk Sarees @ Rs.2000/-
2 Silk Sarees @ Rs.1000/-
3 Sarees @ Rs.550/-
3 Sarees @ Rs.600/-
3 Sarees @ Rs.650/-
3 Sarees @ Rs.700/-
3 Sarees @ Rs.900/-
3 Sarees @ Rs.1000/-
Vivaha Silks & Sarees is absolutely a good place to celebrate the festival seasons of Diwali, Christmas, New Year, Pongal, Ramzan etc with excellent collection of Silks and Sarees. This season will be very much enjoyable for everyone in Kanyakumari district…
The Chennai Silks Nagercoil [VIVAHA Silks & Sarees] Google Map Location