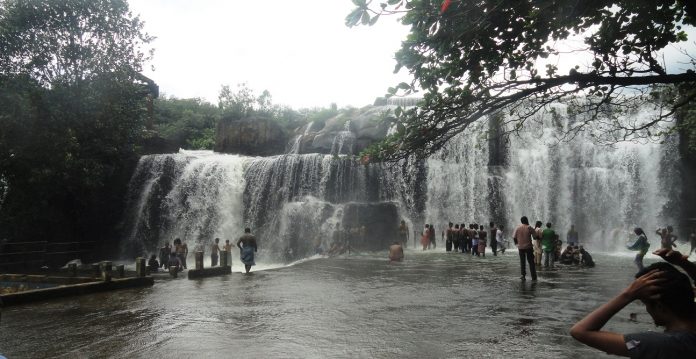 Access:
Air: The nearest Airport is at Trivandrum (45 km).
Rail: The nearest Railway Station is Marthandam.
Road: Thirparappu is well connected by road. You can get busses from Nagercoil, Thuckalay, Marthandam, Kulasekaram.
Thirparappu waterfalls is a very beautiful, elegant and famous in Kanyakumari District. Thirparappu falls is also called as "Kumari Kutralam". Thirparappu is 42 km from Nagercoil, 55 km from Trivandrum and 5 km from Kulasekaram.This is an excellent picnic spot for the taste of all people. One can enjoy either taking bath in the waterfalls or enjoy the scenic beauty or take beautiful photos or you can even explore the beautiful place. For children there is a park near the falls to play and have unlimited fun. Also there is a swimming pool. Boating is also available on the top of the falls. There is a 2000 year old Mahadevar Temple near the falls. The water falls from the height of 100 ft. And bathing in the falls is a great experience. The men and women have separate areas for bathing. There is an entrance fee.
This is a man – made waterfall. This waterfall originates from the river Kodayar as it falls at Thirparappu from the height of about 50 feet and forms a pool at the base. The waterfall is 300 ft in length. The river bed above is rocky. The waterfall is active and flows with force for around seven months in a year. There is a weir constructed for supplying water to the paddy fields.
On river side between the waterfalls and the weir, there is a Siva Temple called as "Mahadevar Temple". It is the third out of twelve Shivalaya's. This temple is built around the 9th Century by Raja Raja Chola and has many inscriptions dating back to 9th century.