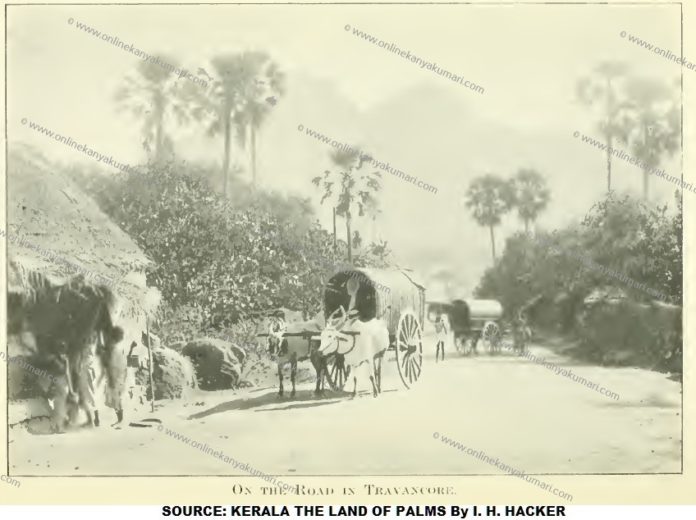 Kottar is situated in a part of Nagercoil today. But in ancient times, the whole of Nagercoil was called as Kottar, according to the literatures, inscriptions, palm leaf manuscripts and travelogues of foreigners. Kottar was once a big city which flourished in commerce, religion and arts. When Kottar did change its name as Nagercoil?
Travelogues of Foreigners
The travelogue of Pliny, who lived in 1st century A.D and a book of Ptolemy, who lived in 2nd century A.D boasts Kottar's business resources.
The Roman naturalist and writer, Pliney the Elder (who lived in between 23 – 79 A.D.) mentions Kottar as a commercial metropolis, having trade links with his contemporaneous Italian merchants.
Doctor Galdwell, one of the most authoritative Indologists of modern time's mentions, that Ptolemy, a Greek mathematician, astronomer and geographer who lived in Alexandria about 130 A.D., referred Kottar as Kottora Metropolis. This will witness to the fact that Kottar which is now the part of Nagercoil, was in its own right, a trading emporium even prior to the first century A.D.
In Ancient Tamil Literatures
Thirugnyana sambandhar, who lived in 7th century A.D portrays about the natural beauty, business resources and the specialized art of Kottaar in his 'Thirukkottaaru Padhigam', a part of 'Dhevaaram'. He starts it with 'Suchindrum Thalapuraanam', which also mentions the Kottar name reason.
In the literature "Pandi Kovai" of 8th Century, it is mentioned that, Ninraseer nedumaaran, a Pandian king who lived during the period of Thirugnyana Sambandhar invaded Kottar and conquered it. Thus he was called as 'Kotaaru Azhitha Kon'.
Temple Inscriptions
An inscription with the information of Kottar was first found in Kommandaiyamman temple located at Vadasery. This inscription was carved during the 18th ruling year of Rajaraja chozhan, which is in the year of 1003 A.D.
15 of the 19 inscriptions found in Sozhapuram Sozharaja temple call this city's name as 'Thiru Kotaaru' and 'Kottar'. These inscriptions were of the period of Rajendra chozhan, Kulothunga chozhan, Venaattu mannan, Veerakerala varman and Paraakirama pandiyan.
The inscription from Puravaseri Perumal temple of 12th century A.D and from Pudhukkiramam Azhagiya Manavaala Perumal temple of 14th century A.D also calls this city as Kottar. The 12th century inscription found from Thalapathysamuthiram Naaganaadha Swami temple located in the highways of Tirunelveli – Trivandrum highways remarks this highway as "Kotaaru peruvazhi". So this refers that Kottar was a very popular city during the ancient times.
4 of 7 inscriptions found in Vadiveeswaram Azhagamman temple also call this city as Kottar. From the inscriptions carved during the 15-16th century in this temple, we come to know that the place where this temple is built was called as Vadiveeswaram.
The 14th century inscription found in Pudhukkiraamam Manavaala Perumal temple tells about Kottar and the Palace found there.
The 16th century incarnations found in Parakkai and kariyamaanikka puram temples mentions this city as 'Kotaaraana mummudi chozhapuram'.
In 15th century the palm-leaf manuscript of Azhagiyapaandipuram mudhaliyaar points out this city as 'Kotaaraana chozha keralapuram'.
A total of 12 incarnations were found in Nagaraja temple by the archeologists of Tamilnadu. In which one of the incarnations of 17th century mentions this city as Kottar.
Church Inscriptions & Christian Manuscripts
St. Francis Xavier, a Catholic Christian missionary came to Kottar in 1544 A.D and started to do religious charitable works keeping this city as head. In his period too this city has been called as Kottaar.
In 18th century A.D, St. Paulinus, a western Christian religious missionary who stayed in Padmanabhapuram palace has praised the significant specialties of Kottar's business and arts. He also has said that people lived in Kottar are excellently ameliorated in music, dance and handicrafts. Dr.Caldwell, who wrote the Dravidian languages' 'Oppilakkanam', has also included Kottar's greatness in his book.
Williams Tobias Ringeltaube, a protestant Christian Missionary came to Mylaudy in 1806 A.D to continue his missionary works in Travancore. After that Charles Mead came to Mylaudy in the December month of 1817 and continued the work of Williams Tobias Ringeltaube. As Charles found that he can't continue his missionary works in Mylaudy, he changed to Nagercoil in April 1818.
On 24th April 1818, in a letter written by Charles Mead, he has mentioned about Nagercoil. This might be the first record of the newly named city Nagercoil. This letter is included in C.M. Augur's book titled "History of Christians in Travancore" (Page 683-684).
Marry Miller, wife of William Miller who came here to do Missionary works from England stayed here for a period of 5 months and died on 21.01.1828. This information was carved on her grave at the cemetery backside of the Home church. This incarnation notifies this city as Nagercoil and this said to be the first incarnation found representing this city. It has been carved in English and Tamil languages.
Name Changed as Nagercoil
After the arrival of Charles Mead, the west side of Nagaraja temple started to develop. After this development, the name Kottar was changed to Nagercoil. Not only was this, a Missionary School, the Home church, a printing press, a college, Missionary office, the Clock Tower also raised. As this place started to get develop, the name Kottaar started to diminish and the name Nagercoil started to prevail due to the Nagaraja temple.
Following that in 1891 A.D, the Travancore Government fulfilled an act which brought Nagercoil, Trivandrum, Kollam, Azhapuzha and Kottayam under this act. This was the time where the old name of Kottar city officially got its name as Nagercoil.
Thus it is known that for the first time in history, this whole city was called as Nagercoil in a literature in 1818 and then on the incarnation in grave in 1828. With the help of these evidences we can see that in the early period of 19th century A.D., Kottar became a part of Nagercoil and this entire place is named as Nagercoil.