Pranav Jewellers Nagercoil
51, Court Road,
Opp. SLB School, Nagercoil – 629001
Contact No.: 9751644111 / 9751344111
Website: https://pranavjewellers.net/
Pranav Jewellers in Nagercoil is a good shop to buy Jewellery in Nagercoil for Bangles, Rings, Ear Rings, Necklace Sets, Bracelets etc in many designs and competitive price. They offer ornaments in Gold, Diamond and Silver.
Pranav Jewellers Nagercoil Offers
Save Upto Rs.4000/- per sovereign.
0% wastage. Very less making charges.
About Pranav Jewellers
Enriched with more than 25 years of professional and profound experience in Gold Jewellery, founder of Pranav Jewellers, Mr Mathan Selvaraj was initially into wholesale jewellery business, to realise his long held dream of getting into retail business for a considerate vision devised this 0% wastage strategy to offer gold jewellery at an affordable and reasonable cost to every segment of the society,  he reached out with this revolutionary strategy to customers by establishing Pranav Jewellers at Trichy, being his staunch principle not to compromise on Quality,  Pranav Jewellers offers only 916 hallmark gold jewellery to the delight and trust of customers.
Enthused and inspired by the overwhelming patronage of customers we branched out in Madurai, furthermore, to accomplish the valuable request of our Chennai customers we established our showroom in Chrompet and subsequently in Kumbakonam, we are in Nagerkoil shortly and we have plans to spread out in Coimbatore, Pondicherry and Salem.
Source & Read More at: https://pranavjewellers.net/about-us/ [Aug 2022]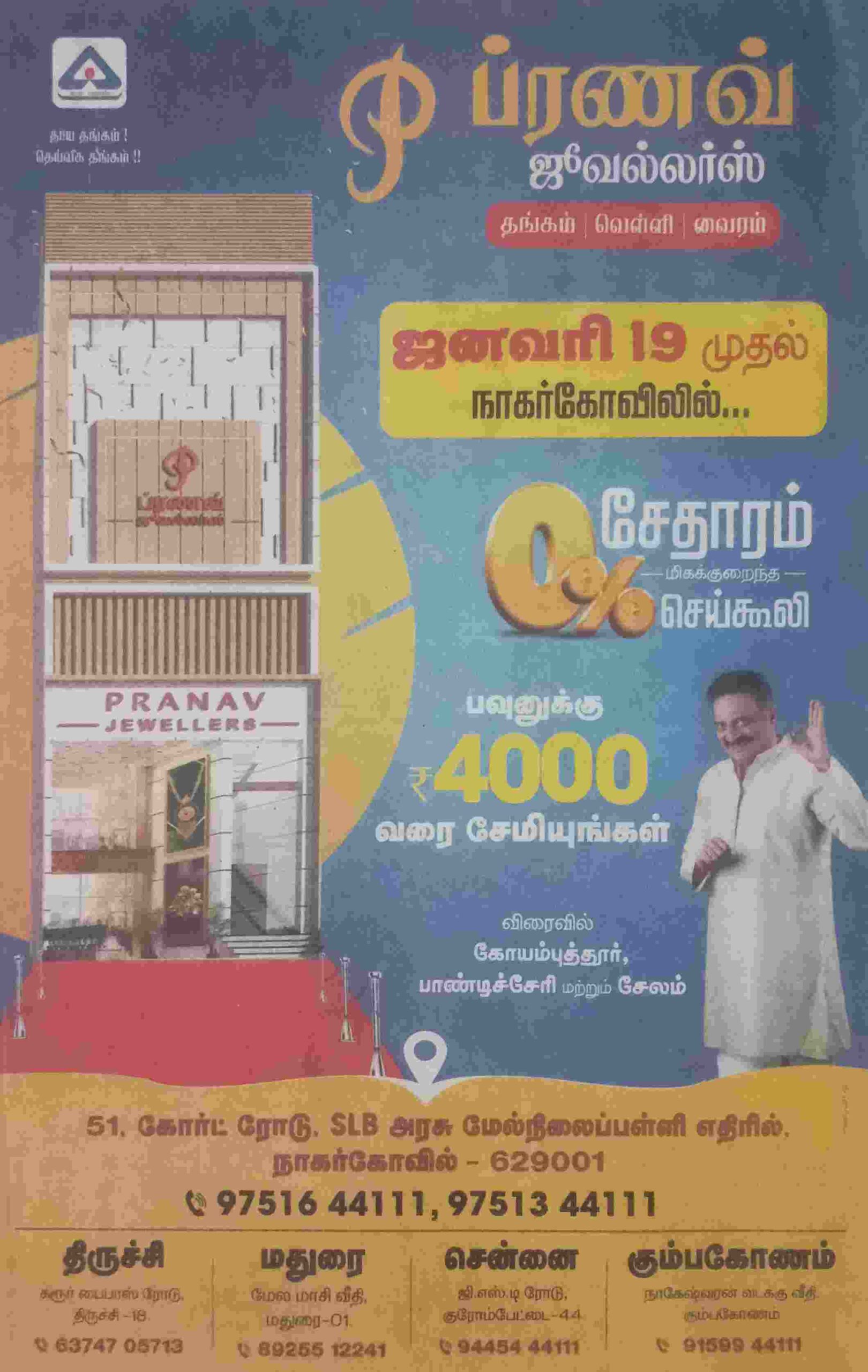 Care Tips for Gold Jewells
Clean the gold jewels by wiping it in tissue paper. For cleaning it professionally, please visit your jeweller atleast once in a year.
Wrap small ornaments in a tissue paper and place it in a plastic box so that scratches does not happen in the ornaments.
Keep jewels away from chemicals, perfumes, cosmetics etc as it may damage or discolor the ornaments.
Ultrasonic cleaners are available, but use it with caution.
Store Gold Jewels and Silver Jewels seperately.
Pranav Jewellers Nagercoil Google Map Location